Media
Image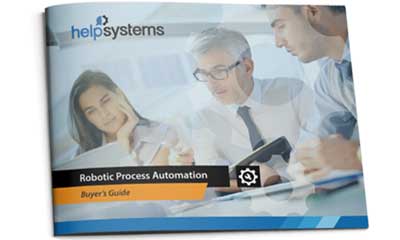 Text
Robotic process automation (RPA) is transforming the way businesses operate. RPA solutions are designed to boost productivity, improve accuracy, and help your organization grow by handing repetitive, manual workloads over to software robots. But with any emerging technology, businesses can be hesitant to jump in.
That's why it's important to have all the facts and information as you make the decision to pursue a digital transformation of your business with RPA. The RPA Buyer's Guide aims to simplify the buying process and give you all the information you need to know so you can find the best RPA solution for your business.
In the RPA Buyer's Guide, you'll find:
A helpful summary of RPA trends, benefits, and different automation options
The right questions to ask vendors as you research your options
Help to determine your budget
How to get the most out of an RPA software trial
Simplify the buying process with all the information you need.
Get your copy by filling out the form to the right.