This video series—"No-Stress Job Scheduling with Jared Dahl and the Automate Squad"—will bring you tips, trends, and general knowledge about job scheduling for your enterprise. What do you need to know when selecting enterprise job scheduling software? What are the different features associated with basic, moderate, and advanced job scheduling tools? How will job scheduling streamline your operations and lead to overall efficiency? What are some new or unexpected ways in which you can utilize Automate Schedule, in particular, to improve operations at your business?
In our first video "Scheduling for the People (Not for Computers)", Jared Dahl, Software Development Manager for HelpSystems, introduces the various types of features you can expect to find with different levels of job schedulers. If you understand the capabilities of different job schedulers, you'll know the extent to which your company would benefit from a more advanced enterprise job scheduler.
Basic Job Scheduling Options
Jared begins by discussing the most common basic scheduling tasks via native or free scheduling tools like cron and Windows Task Scheduler. Your organization is likely using these native tools to schedule jobs on your UNIX and Windows servers, respectively, regardless of whether you have an enterprise scheduling tool in place. Some of the most basic scheduling options include simple date and time scheduling for jobs that repeat on a weekly or monthly schedule.
For example, you might schedule a job that you want to run every month on the 15th. Such a simple repeating daily, weekly, or monthly schedule is easy to attain through most schedulers, including the most basic schedulers. However, these scheduling options are most often used for automating operations on individual machines, like checking an end user's computer for monthly software updates, and they aren't robust enough to handle all of the workflows running across your organization. Plus, running your job schedule from tools that are native to certain servers limits you from building a schedule that can respond to events across multiple servers and applications.
Ultimately, it's important to understand that these basic job scheduling options, such as running a job on simple repeated schedules, will still have a place in a larger enterprise schedule, even if they are the most basic building block of automated scheduling.
Moderate Job Scheduling Options
Though these basic job scheduling options do have their time and place, they are not robust enough to rely on for an enterprise job schedule. Some of the job scheduling options available with more middle-of-the-road job schedulers include list of dates, repeating on intervals, and day of period scheduling. Jared considers a list of dates to be the "scheduling option of last resort" because setting up a list of specific dates for job scheduling in 2015, for example, does not transfer readily to 2016. Because the dates are specific to a year, you would have to set up a new list of dates in 2016, which is not an efficient method for managing your job schedule over time.
In turn, many businesses rely on job scheduling intervals—such as running a job every two days or every 15 minutes—and scheduling by day of period—such as running jobs quarterly, biannually, or yearly—to schedule important jobs and processes for their business. These scheduling options allow you to build a more mature enterprise schedule over the scheduling options available from native or basic job schedulers.  
Image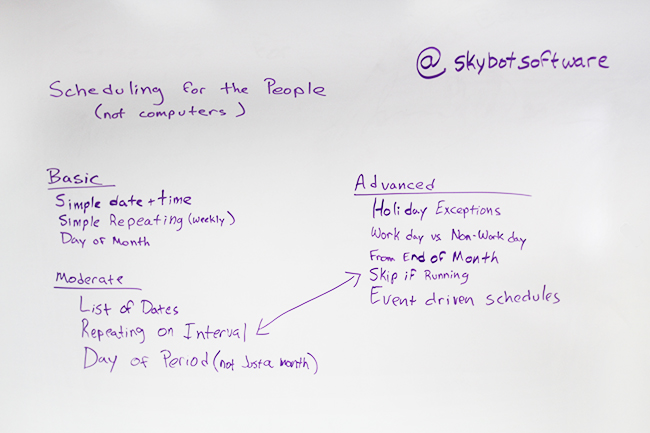 Advanced Job Scheduling Options
The most advanced job scheduling tools offer scheduling options that are flexible enough to respond to changes or exceptions within the schedule. Jared notes that perhaps one of the most notable features of an advanced job scheduler is holiday exceptions. If a job runs on a holiday—especially a holiday when employees are out of the office for a day or an extended period of time—there is no one to take action on the output of the workflow. With an advanced job scheduler with holiday exceptions, the job will run on the nearest workday to the holiday. The same is true for a job that is delineated to run on the 15th of the month. If the 15th is a Saturday, an advanced enterprise job scheduler will allow you to include a stipulation that the job runs on the nearest workday to the date: either Friday or Monday.
Another important feature that is available in more robust enterprise job scheduling tools is to run jobs from the end of the month. Because the amount of days in each month varies, an advanced scheduling tool will determine what day is the last day of the month, and it will know how to process those workflows that are set to start on the last day of the month.  
Toward Event-Driven Scheduling
In the next video installment, Jared will discuss why an event-driven job scheduling model is the best way to get rid of wasted time and space within your enterprise workflows. An event-driven model responds to real-time file arrivals, job completions, job failures, and other important network events, which means that your schedule is intuitive and responsive to the real workings of a modern enterprise.
Event-driven scheduling allows you to build a schedule that understands the needs of the humans behind the enterprise: the humans that want the ability to review output during a workday, not a holiday; the humans that save time when they no longer have to manually enter the last day of the month every month to ensure their end of month jobs run on time; the humans who want to be notified when an important piece of the workflow doesn't complete on time.
Says Peter Borocz, Senior Software Enginneer at EnergySolutions, "Automate Schedule is a critical piece because transactions with our utilities are done essentially on a real-time basis. We have a tremendous amount of file transfers. We update data from one machine to the other, and we pre-calculate reports every night. We use Automate to control all of it." Don't let the limitations of a native job scheduler keep you from attaining the automation you need and want. Schedule on your terms, like EnergySolutions, using an event-driven scheduler that responds to real-time and real-world stipulations.
Join us for the next installment of No Stress Job Scheduling with Jared Dahl and the Automate Squad: "Why (not) Event-Driven Scheduling?" to learn more about the benefits of event-driven scheduling.
Want to try event-driven scheduling with Automate Schedule? Start a free 30-day trial today.