Media
Image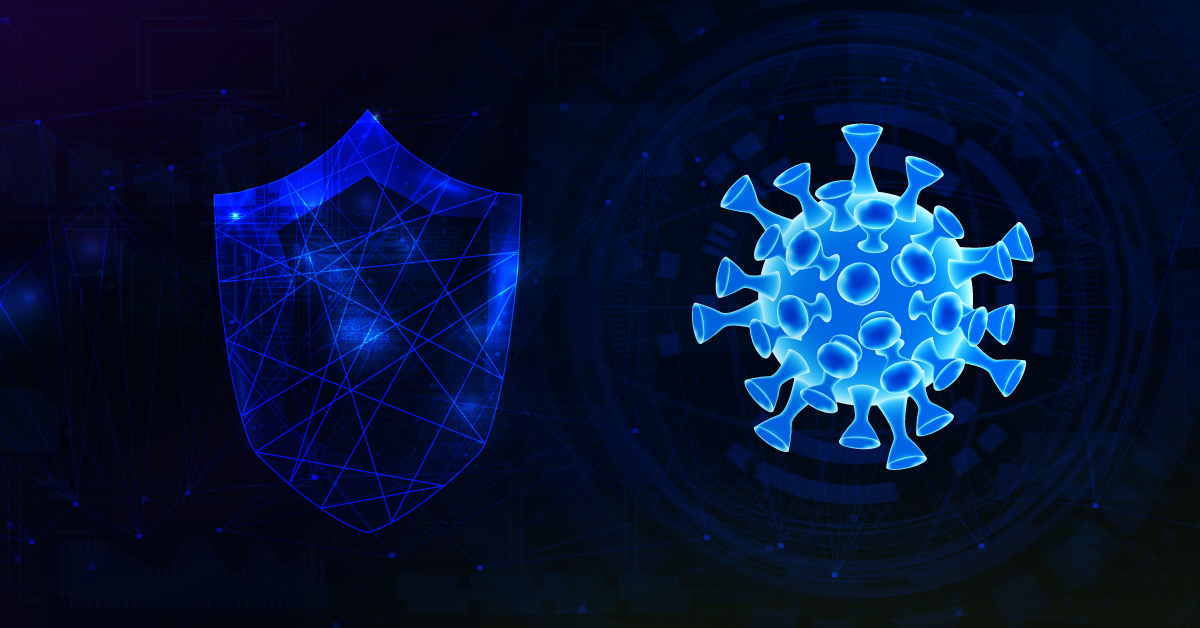 Text
It's Not Just Your Health at Risk
As the coronavirus (COVID-19) continues to generate headlines around the world, it's not just your health at risk – your private data is at risk too.
In more than one sense, the coronavirus is impacting your security. Don't let this cybersecurity threat spread any further by staying alert to these coronavirus-related risks.
Fraud Attempts
Cybercriminals are racing to capitalize on and exploit the current global surge of panic by targeting innocent individuals through malicious online scams designed to steal your personal information and money.
During a global health crisis where everyone is hungry for information, email is one of the main modes of communication. Service providers, schools, government officials, and more all use it to share information with the public about safety measures, closures, and other changes. In turn, this makes for a hotbed of malicious activity by hackers and scammers with the sole intention of taking whatever they can from those that fall for their schemes.
As of late, cases of phishing attacks designed to harvest usernames and passwords from victims who click on links from seemingly legitimate outlets have been growing. These bogus emails have been utilizing tactics like asking potential victims to click on links in order to "prevent the spread of the virus" by downloading new information, safety measures, and more. These links lead to compromised web pages where the goal is to gain access to personal and sensitive information; some try to infect computers with malware.
The Organizations at Play
The cybercrime at play here is due largely to cybercriminals impersonating the very sources millions have been turning to for advice and answers.
The World Health Organization (WHO), a United Nations unit, has reported that scammers have started to use their name, image, and realistic-looking fake domains as part of phishing attacks and other scams to gain access to victims' personal email credentials.
The Centers for Disease Control and Prevention (CDC) has also fallen victim to fraudsters. Cybercriminals are sending out phishing emails that contain domain names very similar to the CDC's actual domain. The emails encourage potential victims to click on a link that supposedly contains details about new cases of coronavirus specifically around where they live. There's also another scam going around via email where CDC imposters have been reported asking citizens for donations in bitcoin.
These fraud attempts are ultimately leaving potential victims at risk for identity theft, personal fortune loss, and much more. As the global health crisis continues to thrive, hackers will continue to take advantage of the situation relentlessly.
Tips for Safer Data
It's important to protect yourself from these exploitative attempts. To do so as best as possible, follow these tips:
Think before you click. Don't click on links from sources you don't know, especially from an email you were not expecting. Or check the URL to verify its safety – Google Safe Browsing is a good place to start.
Look for spelling and grammatical errors. These can be common in phishing emails.
Never enter data that a website shouldn't be asking for. The CDC and WHO will never ask you to enter in your personal data in order to get updates about the pandemic.
Do your homework when it comes to donations, whether through charities or crowdfunding sites. If someone is requesting donations in cash, by gift card, or by wiring money, DON'T do it.
Don't fall for anyone offering you a cure or vaccine to the virus. There are currently no vaccines, pills, potions, lotions, lozenges, or other over-the-counter product or prescription treatment available for the coronavirus – both online and in stores.
Never use the same password on more than one site!
Turn on multi-factor authentication. Sure, it can be an inconvenience at times, but it could also act as a barrier for someone trying to hack into your accounts.
If you come across a coronavirus-related scam, you can report it to the WHO, the FBI, or the FTC.
How Software Solutions Can Help
Keep Your Email Free from Cybercriminals
To prevent scammers from cashing in on the current health crisis, Clearswift, a data loss prevention solution from HelpSystems, offers advanced threat protection. Our SECURE Email Gateway provides unprecedented spam detection, redaction, and sanitization – it's not just for your hands, folks!
Clearswift delivers highly secure email without delay, whether it's in the cloud or on-premises. Its multi-layer defense leverages signatures, recipient authentication, machine learning engines, and more to provide superior protection. This next generation email security results in 99% spam detection and 0% false positives.
Related Reading: GoAnywhere MFT + Clearswift
Keep Patient Information Secure
Even at times of crisis, patients' personal/protected health information (PHI) should stay that way – protected. As of now, the number of people getting infected by the coronavirus is growing rapidly, which means more and more people are going to be seeking treatment.
Depending on the location and the amount of people infected, there's a good chance patients may not have much of a choice with who to get treatment from. Regular doctors or hospitals of choice may not have the room or available resources to take patients in. It's truly important to know that your data can get to the next hospital or doctor safely.
The less time doctors and hospitals spend receiving and verifying personal data, the quicker patients can receive effective treatment and stop the spread of the virus. GoAnywhere Managed File Transfer (MFT) is a great resource for the healthcare field to have in times of crisis such as this.
How to Protect Personal Health Information with MFT
GoAnywhere MFT is a secure file transfer solution that works for healthcare organizations and business associates to safeguard the transfer and storage of sensitive electronic PHI (ePHI) and electronic health record (EHR) data. The software is easy to implement and requires no programming experience to use, so any team can get up and running quickly. It also complies with HIPAA and HITECH regulations.
GoAnywhere simplifies and secures file transfer operations in the following ways:
Streamlines the transmission of patient histories and insurance information
Secures patient data transfers to The U.S. Department of Health and Human Services (HHS) or the CDC
Authenticates all users so only intended parties can access data
Secures medication records collection from pharmacies
Coordinates patient updates with outside physicians
Remote Automation for Working from Home
With the increasingly high numbers of staff from organizations all over the world now working from home (whether temporarily or long-term), MFT agents are a great additional benefit to have.
A licensed module of GoAnywhere, MFT agents can allow administrators to remotely control automated file transfers and file processing from a central GoAnywhere server.
MFT agents provide real-time, remote file transfer capabilities and can be installed virtually anywhere. Servers and desktops located on-premises, external systems like retail locations or trading partners, or even the cloud are all viable options.
With MFT agents you can take advantage of:
Right now, many people are likely struggling with keeping their logs centralized as they are using non-standard company hardware while working from home. With agents, individuals can use projects on the agent host to collect remote log files and send them back up to the MFT server or other syslog servers to have them centralized into a single location.
With file listing capabilities, along with the logic you can put into projects, you can keep directories in sync with one another by adding/removing files on an as needed basis.
Agents have the capability to run native commands ad hoc or based upon schedules or conditions.When you couple this with the ability to transfer files to/from the remote agents servers, this could be a great mechanism that allows for easy mass deployment and execution of remote scripts.
Mobile Capability
An additional way GoAnywhere MFT can help protect your data during this period of working from home is through its mobile app capabilities.
BYOD (Bring Your Own Device) for secure file management is possible with the GoAnywhere File Transfer mobile app. This app enables users of Apple and Android devices to easily and securely send ad hoc file transfers with GoAnywhere MFT.
Coronavirus and Cybersecurity Go Hand in Hand
Through uncertain times there's no need to feel uncertain about your personal data – GoAnywhere's got you.
If you're already using GoAnywhere MFT, contact us to speak about more ways to defend your data during these trying times or reach out at [email protected]!