What is Secure Managed File Transfer (MFT)?
Text
Secure managed file transfer (MFT) is an all-in-one secure solution that streamlines your file transfer processes while protecting your data. With support for multiple file transfer protocols, audit reporting, and automation capabilities, you'll save time while improving security in your organization.
 What Do Managed File Transfer Solutions Do?
Managed File Transfer solutions automate and secure file movement using a centralized enterprise-level approach. With an MFT solution, file transfers and related business processes are streamlined without the need for programming or special skills.
Why Use Secure Managed File Transfer?
Easily exchanging information through file transfers is critical to doing business, but it's also an area where many organizations have severe security vulnerabilities. Poor FTP implementations, a lack of internal security controls, and insecure file sharing apps are just a few of the problems that could be putting your valuable data at risk.
Many organizations attempt to handle new file transfer requirements by writing custom scripts – a practice which is expensive, time-consuming, and error-prone. With MFT by your side, there is no need to juggle multiple tools across disparate systems as your team's resources are drained – file transfers don't have to take up precious time.
With secure MFT, you can quickly create new processes, keep an eye on your data transfers, and limit access to appropriate parties. Built-in auditing helps you monitor user access and know when file transfers fail – or succeed. Safeguard your organization while simplifying your day-to-day with one of Helpsystems' MFT solutions.
The Benefits of Managed File Transfer Solutions
Left Column
Prevent data breaches using secure protocols, strong encryption technology, and modern authentication methods.
Middle Column
Help ensure compliance with detailed audit logs and role-based permissions.
Right Column
Increase productivity by automating workflows and integrating with existing applications.
Who Needs Secure Managed File Transfer Solutions?
Media
Image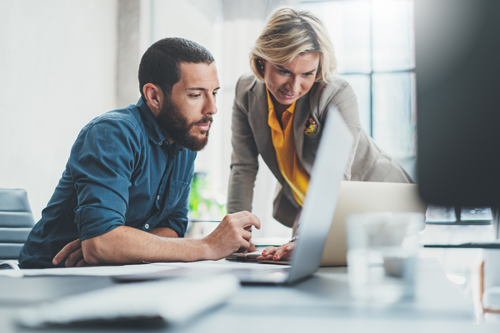 Text
Protecting sensitive data is of paramount importance in today's environment, both in transit and at rest. Secure managed file transfer is one among many file transfer options. However, as a centralized method for encrypting, automating, and sending data securely from one location to the next, it stands out among other approaches to file transfer.
You may need to use managed file transfer if your organization must:
Audit or monitor your organization's file transfer activity.
Comply with data security laws and regulations.
Move to a more secure way to send data.
Use adaptable processes that can overcome downtime, reduce human error, and auto-resume.
Exchange data with internal and external stakeholders – whether in the cloud, on-premises, via SaaS, or within hybrid environments.
The Ultimate Guide to Selecting Secure File Transfer Software
Finding the right solution for your organization isn't an easy process. Your unique circumstances — your industry, clients, vendors, compliance requirements, cybersecurity needs, and more — can make choosing a secure file transfer solution complex.
Simplify your search with help from the ultimate buyer's guide. With information to help you successfully evaluate and choose from different managed file transfer solutions, this guide is a perfect step towards finding the solution that fits your organization's needs best.
GET THE GUIDE
Key Features of Secure Managed File Transfer Solutions
A custom script only runs one task and can be hard to update. A secure managed file transfer solution, on the other hand, brings you:
A Variety of Secure Protocols
Protect transmissions with SFTP, SCP, FTPS, AS2, and HTTPS.
Enhanced Encryption Technology and File Security
Encrypt your files at rest and in motion in order to enhance security, meet industry compliance requirements, and comply with data privacy regulations.
Automated Workflows
Run multi-step workflows to transfer, encrypt, and process files, or schedule transfers for a later date.
An Intuitive Interface
Access your files and information quickly with straightforward user interfaces simple drag-and-drop controls.
Audit Reporting
Track and report on file transfer activity to maintain regulatory compliance.
Clustering for Scalability and Data Recovery
Cluster multiple installations for greater high availability and load balancing capabilities.
Flexible Deployment Options
Deploy your software on the platform your organization uses – on-premises, the cloud, via SaaS, or hybrid.
Continuous Enhancements and Updates
Stay ahead of the curve with an ever-evolving secure solution that prioritizes the latest-and-greatest in file transfer.
Beyond FTP: Securing and Managing File Transfers
Text
FTP has become the standard for business-to-business file transfers, but poor FTP implementation practices have left many businesses with severe security and management issues. There's a better way. Learn how to bring your FTP implementation into a more modern, secure framework.
Integrate Data Security Solutions with Managed File Transfer
Text
Alongside data classification and data loss preventions solutions as part of a data security solution suite, managed file transfer can be deployed to provide seamless protection for business-critical data from creation to destination.
During the content inspection process, HelpSystems DLP tools recognize different data classification labels and automatically enforce the appropriate policies.
They also ensure data classification labelling remains in place as the data moves throughout the network or leaves the organization.
Files being sent or received securely through managed transfer benefit from an additional layer of data loss prevention and protection from cybersecurity threats.
Three Key Questions to Ask When Evaluating Your Current Existing File Transfer System
Text
Technology exists to make life better. However, if it's making life difficult or requires too much time and resources, then that technology is likely due for an upgrade. If your existing file transfer system is homegrown or outdated, or you're using too many cloud applications, databases, and systems, then it's time to learn how to best identify the right solution and strategy for your organization
Secure, Affordable, Scalable – HelpSystems MFT Solutions
Text
HelpSystems offers comprehensive, enterprise-level solutions for automating, securing, and streamlining file transfers for organizations of all sizes.
GoAnywhere MFT and Globalscape EFT are both user-friendly MFT software solutions that can help your organization achieve regulatory compliance, increase security, and streamline processes.
If you're not sure which one is right for you, check out what's unique about each solution below: