SEQUEL Users Go Mobile
Mobile devices (iPad, iPhone, PC Tablets) are now in the hands of over 89% of corporate professionals. Whether companies are buying them for their employees or the employee has decided to invest in one on their own, the fact remains that mobile data access is no longer a luxury; it's becoming a requirement.
The right data access solution for a mobile device allows the user to easily get what they need, when they need it to make relevant business decisions. Yes, there is a fear from IT departments about how secure or controlled a mobile device is and how safe the data it's accessing can remain. That's where SEQUEL Web Interface (SWI) comes in.
It Works With What You Have
If you've already setup your SEQUEL objects, there is nothing to change in order to make it visible and usable to a SWI user. This simplicity gives businesses a centralized, controllable environment to allow data access to those who need it.
SWI has a zero footprint on your PC with nothing to install, configure, or support, and it frees up IT members to focus on other tasks. It's supported by Microsoft Internet Explorer (IE), Mozilla Firefox, and Apple Safari. Most PC's come with IE, and Firefox having been developed as open source, has gained a strong following, while Safari has taken off because of the iPad, iPhone, and various tablets. The safety of your data is controlled not only by your organization's firewall and access policies, but also through your IBM i library and object security.
Access Your Data On-The-Go
Since Safari is supported by SEQUEL Web Interface, users can use their mobile devices to access SEQUEL Objects including: Views, Reports, Tables, Scripts, Applications, and Dashboards.
The SWI Explorer gives users the ability to access the SEQUEL Objects they need in a manner very similar to ViewPoint. You have the ability to select a library, object name and/or type, there is a list of recently run objects, and since you are using a browser, you can bookmark some objects for even easier access and use. Although unlike ViewPoint, there is no design capability in SWI.
SWI in Action
Image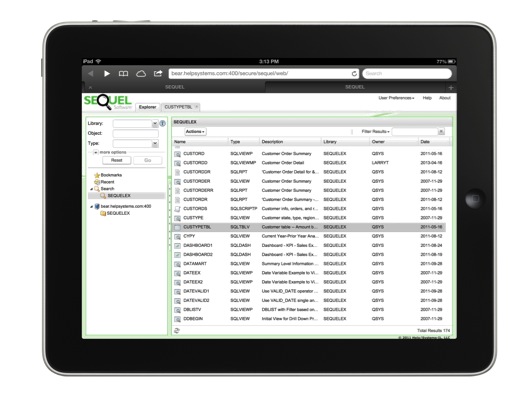 SWI-Pad showing SEQUEL Web Interface Explorer
From the remote device, since there is no right-click or double click to get the options, you highlight the SEQUEL View, Report, Table or Dashboard you would like to execute and use the "Actions" button at the top. You can select Display, Save, Print, Email or Bookmark from the Actions button.
Image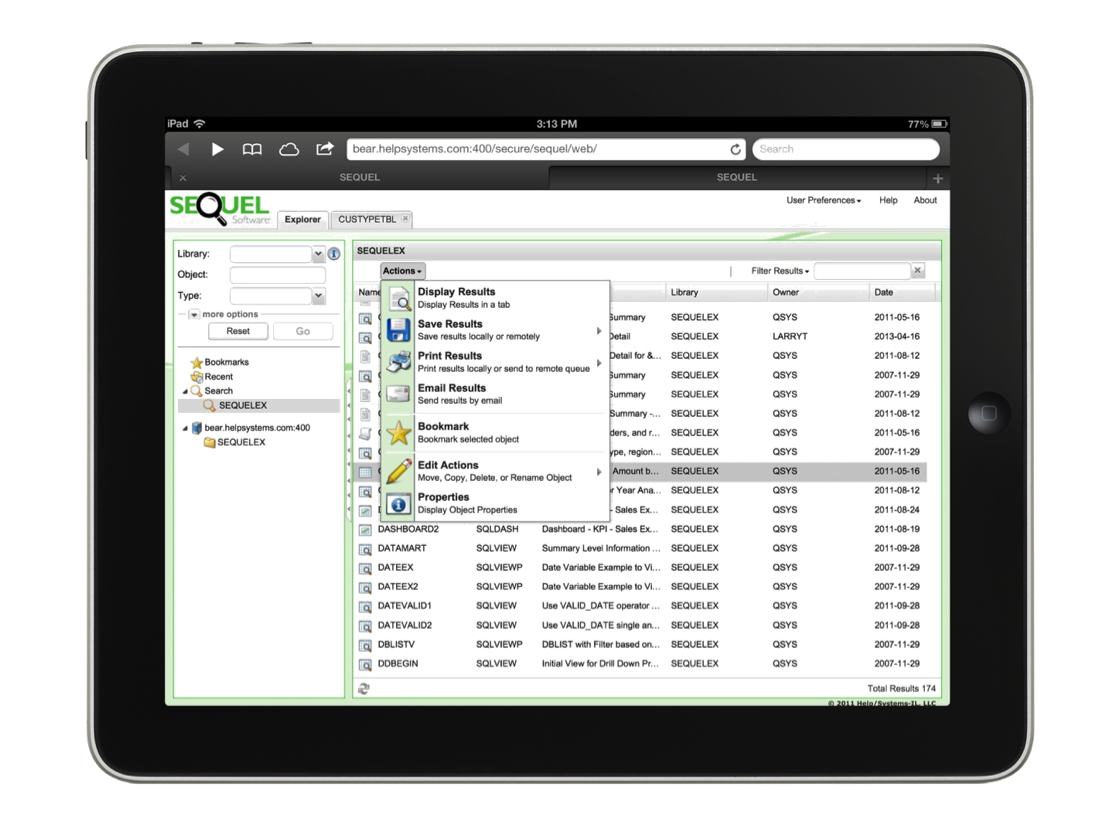 Actions Available in SEQUEL Web Interface
SEQUEL Views that have variables will still prompt a mobile device user; allowing them to select the information they need on the fly. It does not matter if the prompt is a database list, a values list, or user entry, the values are still needed in order to complete the SQL data request. 
Image
A Date Prompt in SEQUEL Web Interface
Users of SWI can easily email their results. And if the organization is licensed for a full or enhanced version of ESEND and have an address book setup, the user can specify an ESEND address book list to mail to. For example, to email the managers list, just type 'mangers' into the send-to box. All email addresses in the list will get a copy of the results in their email.
Image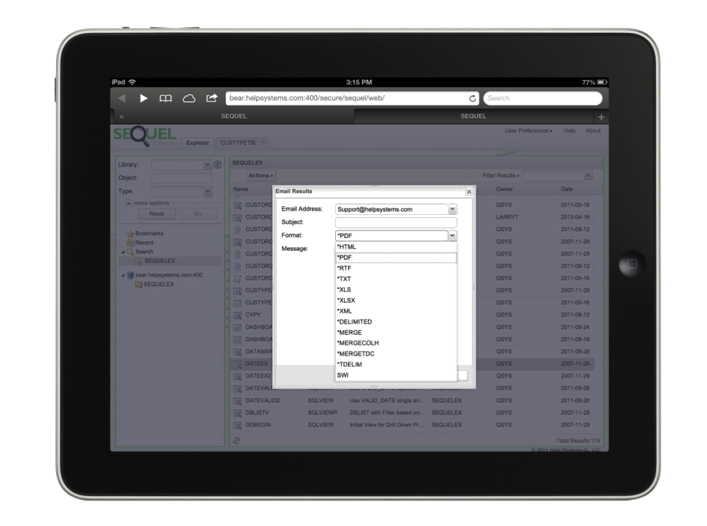 Email Results from SEQUEL Web Interface
SEQUEL Web Interface allows users to create graphs on the fly in addition to viewing graphs and gauges on a dashboard. SWI allows drill-downs, grouped views, dynamic drilling, applications, and defined path drilling. When there is drill-down available, users will see a blue circle with a white down arrow on each row. Click the arrow and click the 'Drill Down Options' button to begin drilling.
Image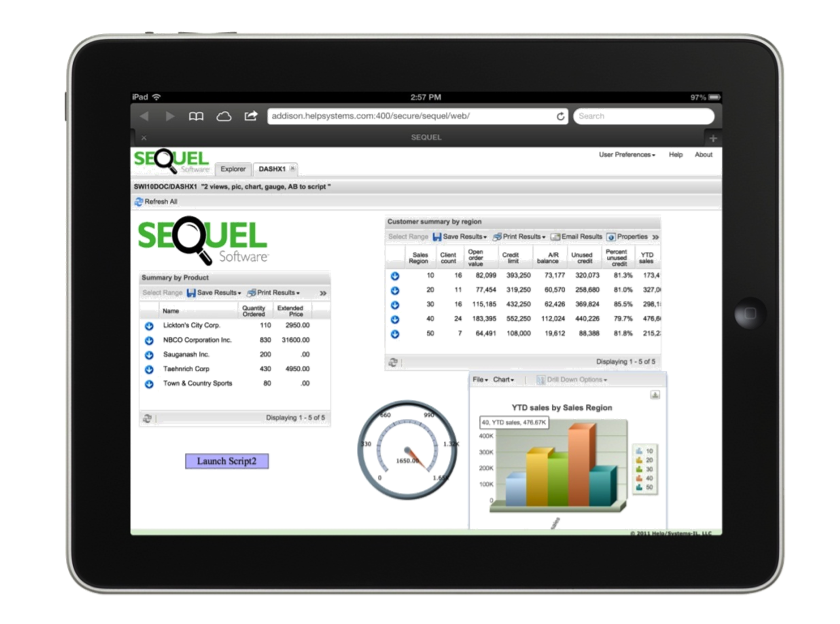 Drill-Down Capable Views on a Dashboard in SEQUEL Web Interface
Viewing active dashboards is a huge benefit of SWI. Although, some consideration should be given to the size of the dashboard and amount of data being displayed when building SEQUEL Objects for users of iPhones due to the screen size.
If your company allows, encourages, or requires mobile devices, now is the time to look to SEQUEL Web Interface as the tool to open up your data to your professionals on the go. Let us help you give SWI a try.