Why go paperless? The numbers speak for themselves...
Image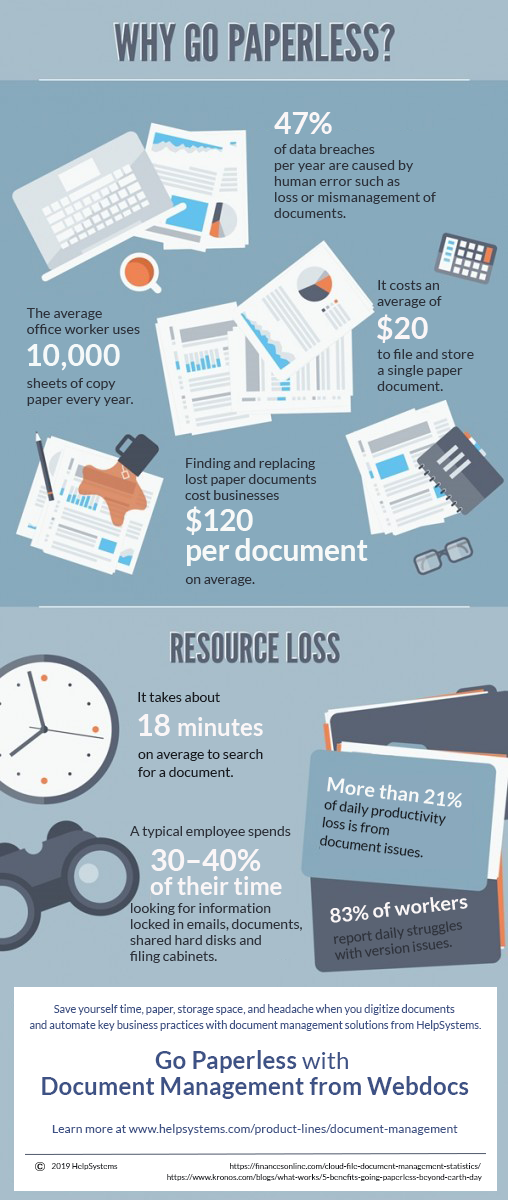 Stats from the Infographic:
Cost and Risk:
47% of data breaches per year are caused by human error such as loss or mismanagement of documents.  Keep your information safe >
It costs an average of $20 to file and store a single paper document.
Finding and replacing lost paper documents cost businesses $120 per document on average.
The average office worker uses 10,000 sheets of copy paper every year.
Resource Loss:
83% of workers report daily struggles with version issues. Digital documents are easier to find >
More than 21% of daily productivity loss is from document issues.
It takes about 18 minutes on average to search for a document.
A typical employee spends 30–40% of their time looking for information locked in emails, documents, shared hard disks and filing cabinets.
Sources:
Should You Go Paperless?
Take the document assessment. All you need to do is answer nine quick questions and you'll find out if you should go paperless.
TAKE THE ASSESSMENT