Media
Image

Text
Graphical user interfaces (GUI) provide a more appealing user experience over the green screen and should make it easier for newer staff members to learn Robot products. However, there are some organizations where the GUI has just not caught on.
That's where web-based user interfaces, or WUI, come in. The WUI offers a few new benefits in areas where the GUI has traditionally struggled.
Image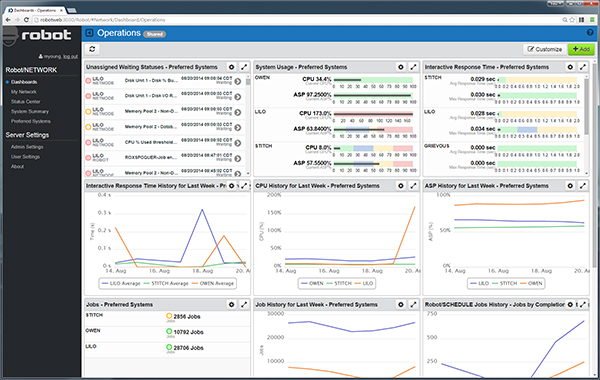 Getting Around Change Control
A GUI has to be installed on the desktop of each end user, and must be updated if the underlying Robot product changes considerably, like going from version 11 to version 12 of Robot Schedule, for example.
In some organizations, it's no big deal to install new software on a Windows desktop, but in many companies this falls under change control…and under an entirely different IT team outside of IBM i. That's right. The Windows team can determine when and how we update to the newest version of Robot.
Over the years, these environments have hung onto the green screen and chosen not to use the GUI because of change control.
The web-based user interface is beneficial because there is no software to install on the desktop in order to take advantage of the technology. Simply point any browser to the IBM i server with the correct URL and start viewing performance data or monitoring the Status Center in Robot Network in minutes.
Experience Responsive Design
Given the many different shapes and sizes of technology today that can access a browser, a good web interface must have a responsive design. This means that the display automatically adapts to each device for a smooth viewing and navigation experience. An iPad, iPhone, Android, tablet, or PC browser could all be used to administer and view the status of Robot products, making it easy to monitor performance or check in on the job schedule while in meetings, traveling, or at home.
Address Security Concerns
Robot web interfaces are designed to adopt product security in the various modules. For example, if Robot Network security is set to lock different user profiles out of various features, the web user interface will adhere to this same set of rules.
Can users access the WUI from a hotel lobby PC? Only if the network allows this—and that's not likely. IT teams can't afford to open up the IBM i server to the internet. Most of us will be required to launch a VPN client and then launch our browser of choice. HelpSystems recently demonstrated this technology at COMMON and other trade shows.
Progress with Purpose
A WUI needs to provide additional business value; it should not just be a design refresh of the GUI. Robot believes that web interfaces must enhance user experience and improve functionality. For instance, the Robot Schedule development team is currently working on building a better way to show dependencies for the reactive job feature into a web interface.
Over the next couple of years, the Robot development team will provide these web-based user interfaces into Robot products, along with some enhanced viewing features. The web interface for Robot Schedule and Robot Network is already available.
Are you ready to compare GUI vs. WUI for yourself?
Get Started
HelpSystems Insite transforms the way you manage your systems. With this mobile-friendly interface, you can easily define and share dashboards and securely view system information from your preferred device, providing single-pane-of-glass visibility for IT staff and executives alike.
 
EXPLORE HELPSYSTEMS INSITE