Top Concerns
Text
Perhaps the most consistent data point in the IBM i Marketplace Survey Results is the ongoing cybersecurity threat. Over the past six years, cybersecurity has been the main concern for people planning their IT environment, and this year was no exception. Although it has decreased since last year's results, 62% of respondents still said this was their number one concern. With the continued rise in activity of bad actors, cybersecurity is most likely destined to hold this top spot.
Coming in next is high availability/disaster recovery at 59% and then modernizing applications at 56%, which jumped 5 points from last year. Although we aren't seeing a huge shift to cloud for IBM i users, this could also mean updating browser interfaces, modernizing the database, SQL Services, or adding open source to their server. This doesn't mean that IBM i customers are necessarily anti-cloud, but the value proposition isn't yet apparent like it is with other servers as server sprawl isn't a concern for IBM i customers. Another explanation could be that IBM i customers are more cost-conscious and there aren't huge cost benefits associated with moving to the cloud. Modernization will continue to be an ongoing trend as new technologies are discovered and released.
Rounding out the top 5 biggest concerns are IBM i skills and IT and business automation.
Media
Image
Text
RECOMMENDATION: 
Given that cybersecurity is such a strong and on-going concern for IBM i users, it's crucial to continue to gain a deeper understanding of the cybersecurity environment. The HelpSystems State of IBM i Security Study provides exclusive insight into the tools and strategies organizations are using to secure IBM i and where systems are most often left vulnerable. If modernization is your concern, check out our IBM Power Systems Modernization Series that includes topics such as hardware, applications, cloud, and more.
Cybersecurity
Text
We know cybersecurity is a major concern for the majority of organizations. We have seen enough examples over the past few years of companies brought to their knees by data breaches, ransomware, and security vulnerabilities to understand the damage that failing to prioritize cybersecurity can cause. Although organizations prioritizing security seem to be implementing multiple solutions, it is still alarming that, on average, almost 30% of respondents do not plan to implement each of the surveyed solutions.
Most notably, 42% of respondents said that they are not planning on implementing database encryption despite it being a big part of many regulations. This could be that some organizations don't consider what they're storing on IBM i as sensitive information, or it could reflect that the customer may be relying on applications they are running to handle the data encryption.
Other worrying statistics include that 34% and 32% do not plan to implement multi-factor authentication or anti-virus and ransomware protection, respectively.
Media
Image

Text
RECOMMENDATION: 
If your organization is one that currently has no plans to implement certain cybersecurity solutions, it's worth rethinking that approach. If you are unsure of how to start, our free IBM i Security Scan and team of experts will point you in the right direction. 
Cybersecurity Challenges
Text
Of all the IBM i security challenges organizations face, a lack of security knowledge and skills once again topped the list this year, rising by three points to 47%. 42% say constantly changing threats is their greatest challenge, an increase of 6 points.
Concern over lack of budget has gone down after a big uptick during the height of COVID-19, decreasing from 31% to 22% in 2022 as the unknowns have somewhat settled and we gain a better grasp on the implications. This change could have also been brought about by realizing the need for a security budget amidst a breach-filled news landscape. Nobody wants to be the next headline.
The overall theme in cybersecurity challenges is of change. Threats are constantly changing and that keeps organizations on their toes. Plus, with the complexity of regulations on the rise, most notably those that are state-specific, we anticipate keeping up with changes is a trend that we'll continue to see grow over time.
Media
Image

Text
RECOMMENDATION: 
In a year that continued to serve up fresh cybersecurity challenges, choosing a cybersecurity partner who understands how to manage constantly evolving threats becomes even more important. Managed Security Services (MSS) from HelpSystems is a great option to fill in any gaps in the latest expertise. As ransomware continues to be concern, make sure you're building a strategy to prevent and detect attacks. 
Regulations
Text
The long-overdue changes to data privacy has been a major trend in IT and business over the past few years and has gained significant traction within regional or state-specific geographies as well. With more requirements, higher penalties, and stricter enforcing, it's obvious that regulations are here to stay.
This makes it all the more surprising that 24% of our respondents do not adhere to any compliance mandates. While this figure has dropped significantly from 40% in 2018, it's astonishing to see. The number of respondents adhering to Sarbanes-Oxley (SOX or JSOX), PCI DSS, and GDPR have remained relatively flat year over year, but we are seeing that 12% of organizations are adhering to regional cybersecurity laws being enforced by New York, California, and Singapore, for example. It will be interesting to track this number over time as additional regional regulations are put into place.
The biggest increase is those adhering to HIPAA regulations. The results in 2022 were the highest we've ever seen in this survey, coming in at 21%. This could correlate to a higher number of respondents in the healthcare industry responding to the survey or could be a result of COVID-19 dominating headlines and reinforcing healthcare privacy.
Media
Image

Text
RECOMMENDATION: 
Compliance is incredibly important, but some organizations struggle to find the resource to manage requirements efficiently. This compliance monitoring and reporting software for IBM i simplifies compliance report generation and allows you to quickly and easily provide auditors with the information they need. Automating audit processes is becoming a necessity for many organizations as they cannot afford to continue using manual and time-consuming methods.
Development Languages
Text
The amount of development that takes place on IBM i is always a particular area of interest in our research, and this year the development languages used for new development show some interesting trends. The usual leaders—RPG and SQL—remain at the top this year with 93% and 77% respectively, but RPG usage has skyrocketed. This may be a result of the ability to now use free-form RPG.
With the uptick of RPG, SQL dropped slightly by 3 points. CLP continues to rise at 65%, and Java dropped by 5 points to 40%.
The number of users for other, more traditional development languages stayed very steady, although Python did see a rise of 4 points to 19%. PHP continues to hold steady at 20% even with all of the changes that have taken place.
We are seeing more and more people writing in a combination of languages, especially because modern RPG looks and acts like other languages, which also makes it easier to teach. This is promising for the future of IBM i and can help to close the IBM i skills gap.
Media
Image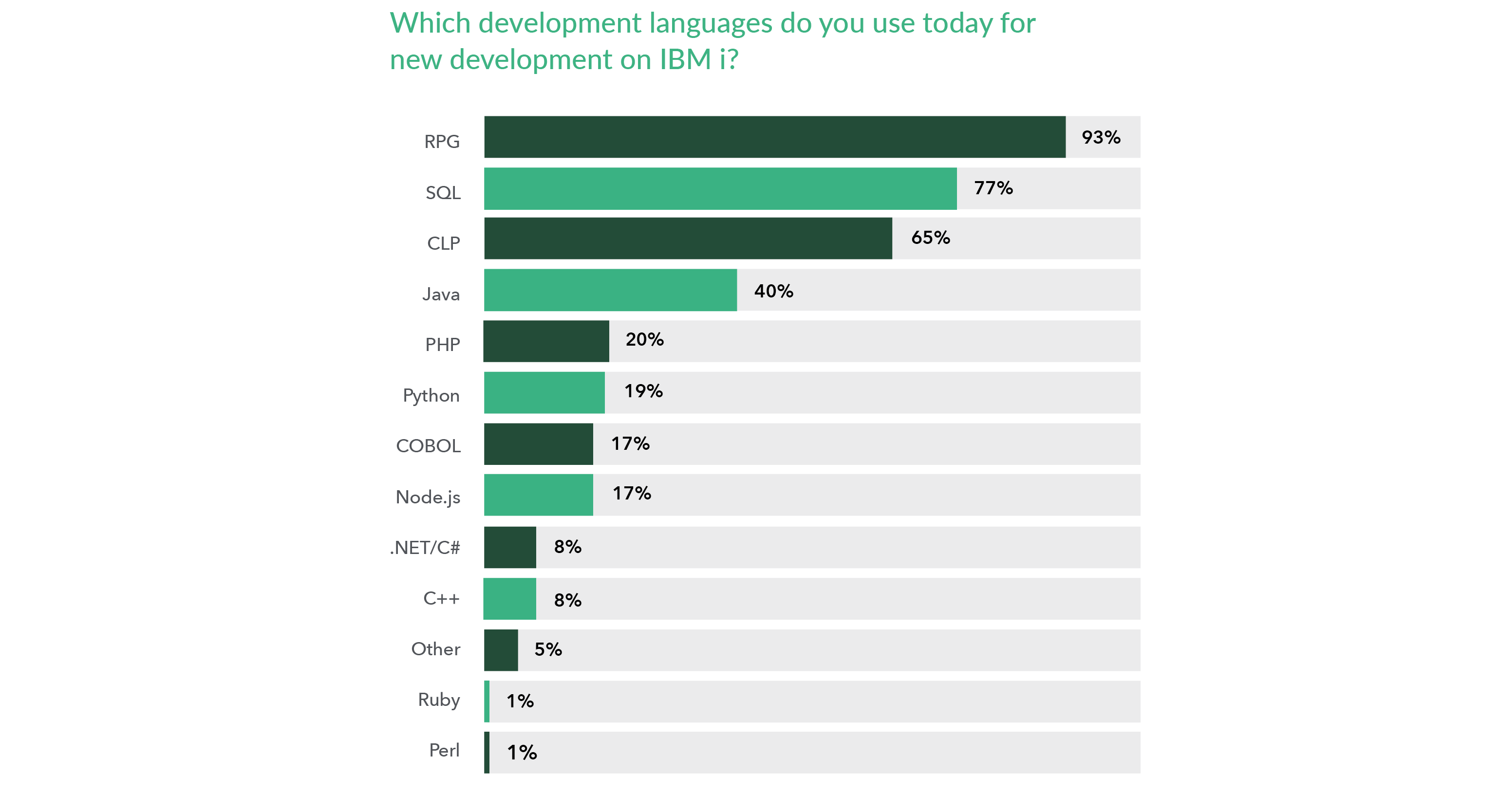 Text
RECOMMENDATION: 
As technology and development landscapes continue to evolve over time, it's increasingly important for organizations to stay on top of current trends. If you're looking for educational resources, organizations like COMMON, Fresche, Perforce, Profound Logic, and Lansa often offer webinars or other types of training that may be beneficial. 
Open Source Development Tools
Text
Like most of the IT landscape, open source is an ever-evolving area. IBM i has made a big push to ensure more open source options are available, which can be seen in the growing number of open source tools being deployed on IBM i. In fact, around 20% of respondents are doing things in a fairly open way.
Key insights to note are the 5 point increase for Git to 20%, and the 6 point increase in Bash usage to 13%. It's notable that Bash users need some level of UNIX knowledge to use the tool properly. Appearing on the survey for the first time were Jenkins and Ansible coming in at 7% and 6%, respectively. These are something to keep an eye on.
Whether your company has a policy embracing open source or not, you're most likely using open source in some capacity.
Media
Image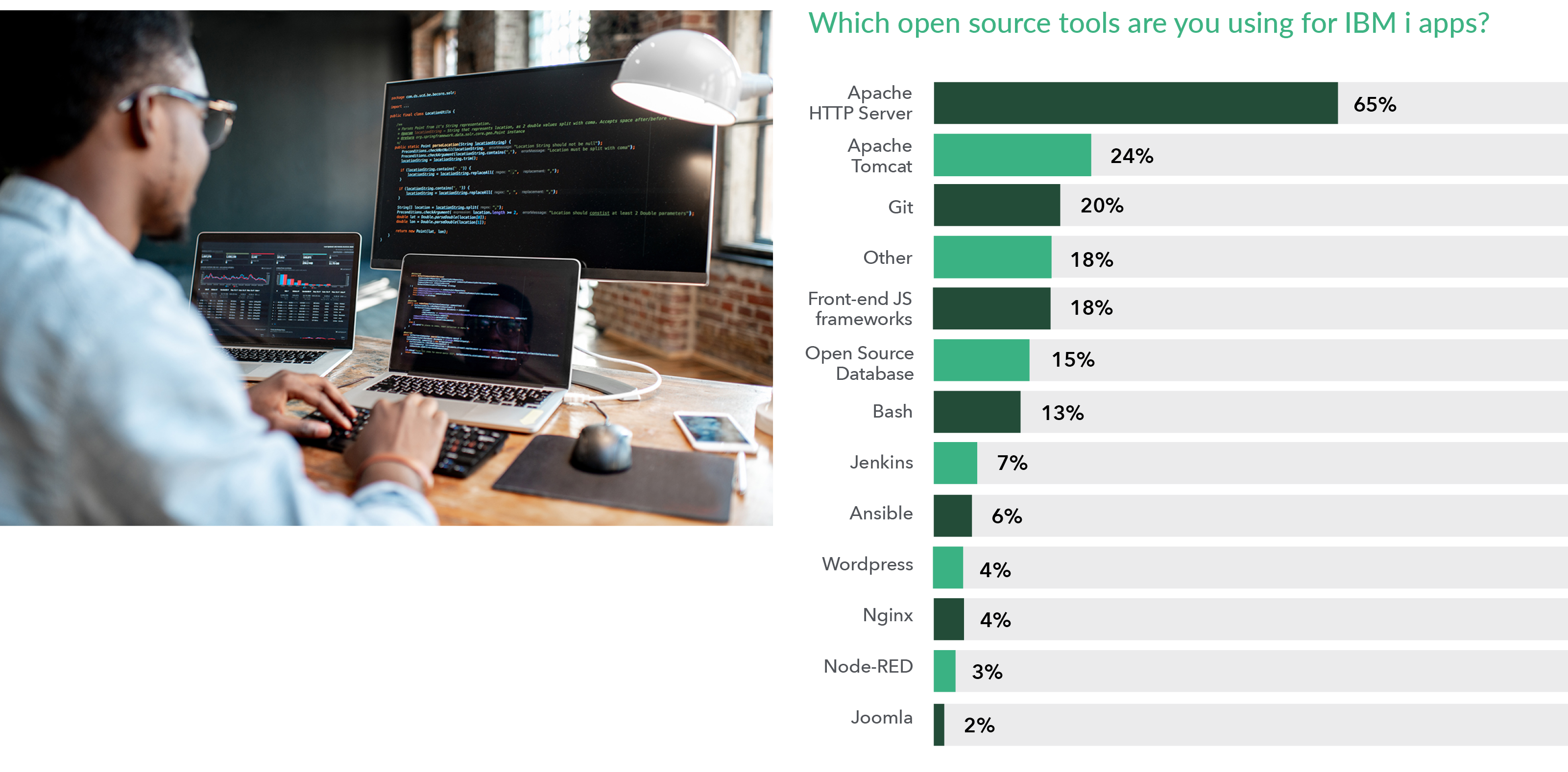 Text
RECOMMENDATION: 
With open source development almost certain to increase over the coming years, it is wise to ensure your development teams are ready for this. Information regarding support for open source on IBM i can be found here. 
Rational Developer
Text
Rational Developer for i (RDi) is regarded as one of the leading productivity tools for IBM i. As a result, we're encouraged to see this year's survey responses reflect a big trend towards using RDi. 22% of respondents said that 100% of their developers use RDi, up from 16% in 2021. While 29% of respondents report that they still don't use RDi, it is a huge change from the 40% that was reported in 2021.
If an organization is looking to onboard new developers, modern techniques must follow. The modernity and efficiency of RDi is essential to attracting new talent and increasing productivity. RDi makes it easier to collaborate, which is key in today's largely work-from-home environment. It also allows users to transition away from older tools to adopt a more modern and progressive development approach.
Media
Image

Text
RECOMMENDATION: 
RDi is a technology rich with potential for any IBM i shop. If it's a question of not being quite sure how best to deploy it, these six RDi tutorials contain a wealth of suggestions and tips to maximize the value from RDi.  
Automation
Text
When asked, "Does your IBM i run fully unattended after working hours?", 75% of respondents said yes. In 2021, we speculated that the increase in working from home because of COVID-19 could turn the automation dial to full speed. This prediction turned out to be spot on and we expect this to trend upward as we continue to finesse the way we work.
With the huge increase towards IBM i running unattended, especially after working hours, it's encouraging to note the decrease to only one quarter of respondents who report that their IBM i operations are attended after normal working hours.
Although 33% of respondents noted IT and business automation as a top concern, we have also seen an uptick in interest in robotic process automation (RPA). RPA can be used in conjunction with IBM i automation by using rule-based technology so that you can "set it and forget it" while easily being able to make tweaks as your business needs.
IBM has been working towards deployment and configuration automation solutions that would be extremely beneficial for customers with multiple instances of IBM i.
Media
Image
Text
RECOMMENDATION: 
Automation can be incredibly useful for any IT department, saving time, money, and resources. If you are unsure whether more automation is suitable for your organization, a HelpSystems guided automation assessment can help with the decision-making. If you're working towards going paperless, check out our document management solutions that automate key business processes by electronically capturing, managing, and distributing documents and forms on-premises or in the cloud. 
High Availability
Text
Unsurprisingly, 59% of our respondents this year cited high availability/disaster recovery as a top concern when planning their IT environment. Although a low percentage, 2% of respondents still don't have a system in place to recover from a disaster. We have to ask the same question we asked last year—how can an organization realistically have no system whatsoever in place to recover from a disaster?
We know that many organizations have multiple systems in place to recover from a disaster, which is absolutely a best practice. If high availability fails, then they still have tape to fall back on. Some things are too important to put all your eggs into one basket. That being said, 16% of organizations still solely use tape.
Software-based replication continues to be the clear favorite when it comes to the type of high availability technology that organizations use, but hardware-based technology holds steady with 22% of respondents using IBM PowerHA.
When we talk about modernization, we have a tendency to talk just about application modernization, but how you implement infrastructure to be more resilient is a type of modernization that is just as crucial.
Media
Image

Text
RECOMMENDATION: 
Disaster recovery cannot be left to chance or ignored completely—we are talking directly to the 2% with no disaster recovery systems now! HelpSystems has a range of business continuity solutions and services that can help you plan for (and recover from) the worst. Our team can guide you through the various IBM i HA/DR tools such as PowerHA, Robot HA, and Db2 Mirror for i.
Remote Operations
Text
Business as usual looks different these days, and that likely means supporting remote operations. Along with this comes a new set of challenges, which most notably include security concerns with remote access at 46% and supporting employees working from home at 42%.
To offset these challenges, IT and security priorities may have shifted over the past two years to ensure new day-to-day operations are running smoothly. These top changes include automating manual processes at 38%, leveraging IBM i Access Client Solutions at 34%, and implementing layered security around VPN access at 32%. Based on responses earlier in the survey, it's no surprise automation took the top spot.
Perhaps the most surprising was that one third of respondents said they made no changes at all to support remote operations. It's possible they were already supporting a large volume of remote employees or operations and had the capabilities to support the further shift, but still a fascinating insight to find.
Media
Image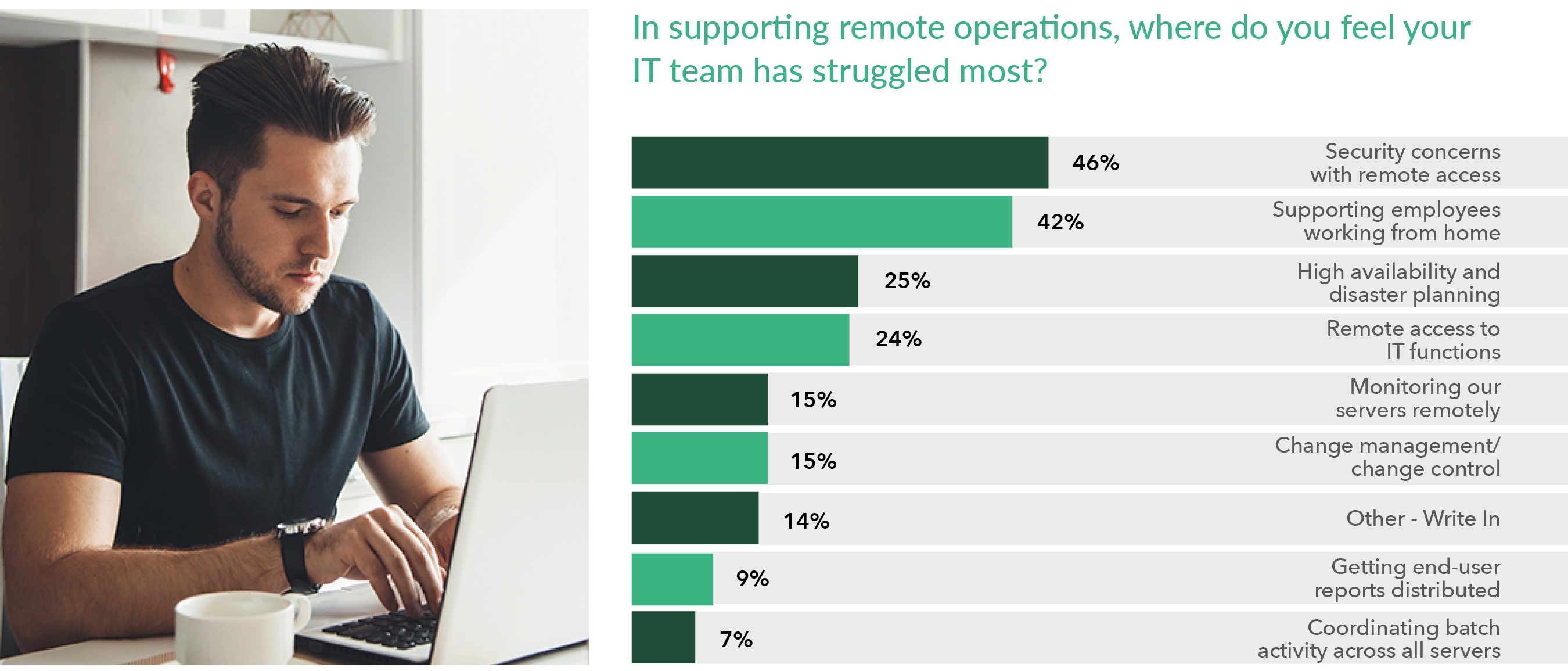 Media
Image