Why Use A CRO Report? 
CRO – Client Report Option, an excellent PC based reporting tool allowing you to distribute information at a new level.
The SEQUEL Client Report Option (CRO) lets you design reports for PC printer output using System i and other remote database data.  There is no need to manually download data to a PC to manually build a PC-based report.  With a CRO, you can specify font types, sizes, colors, pictures and logos, boxing, and other formatting options such as shading, highlighting, borders, and charts.
Let's take a closer look at why you would want to use a Client Report Option (CRO). If you can answer yes to these questions, CRO could be right for you.
1. Do you have a need for a sharper, clearer view of the data?
2. Is there a need to include graphics such as images and logos?
3. Do you need to include barcodes?
4. Are you looking for a faster, direct connection to IBM i databases because no ODBC connection is required? (SEQUEL views and tables provide the underlying data access capability, which means you can summarize or reformat data before it's delivered to the client workstation.)
5. Do you need to include a Table in a report or Crosstab?
6. Do your users who design reports need full field attributes, descriptive text, and field names?
7. Do you need additional distribution options?  (All Client Report objects are managed and saved on the IBM i system. This means that it's easy for multiple users to share common reports, and to include report objects in regular backups.)
8. Do you need secure access to your data?  (CRO uses standard IBM i security, plus additional SEQUEL record-level security, giving you the ability to restrict access to just users with the proper authority.)
Were you able to answer yes to a few of those questions? Before you decide whether or not CRO would be advantagious for your business, take a look at CRO in action. 
Example - How to insert a Crosstab (a table) in a Client Report:
Client Report Option using Crystal Software enables you to insert or include several different types of objects within a report including crosstabs (see image 1 below).  Using crosstabs to summarize data displaying the intersections between categories of data is very simple using the Cross-Tab Expert. 
Crosstabs can be added to the report or page header or footer, not to the Details section. To generate the cross-tab, three elements must be selected. The Crystal software will then perform the calculations and create the report dynamically.  If the data changes, the table will change.  No need to change or rebuild the report.
Step 1:  Build a new SEQUEL View or use an existing SEQUEL View (i.e., SEQUELEX / CUSTYPE )
Step 2:  Select the option to create a new Client Report Option over the view (i.e., CUSTYPE). Right click within the body of the report and select Insert Cross-tab (or from the Insert option on the top of the page) and place the Cross-tab into the report as shown in images 1 & 2:
Image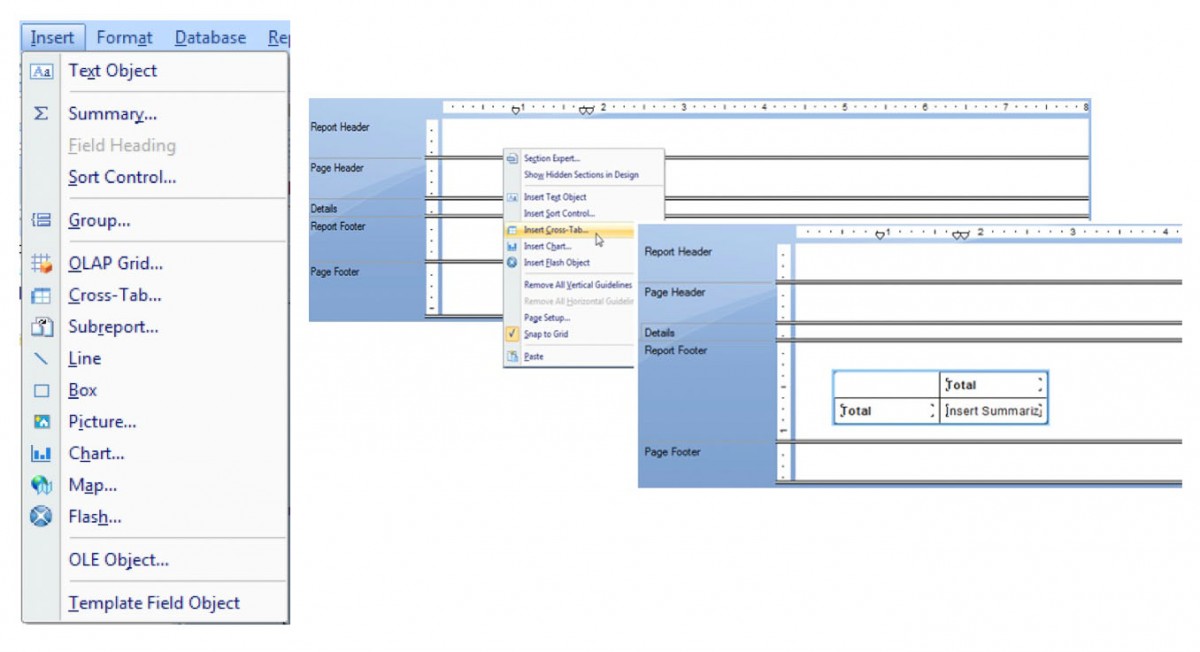 Step 3:  With the crosstab object selected, select Cross-Tab Expert within the Format options on the top of the page.
Image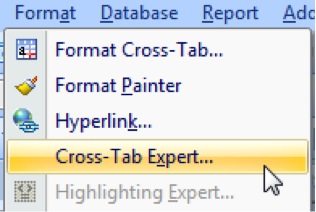 Step 4:  From the Cross-Tab Expert, select the appropriate fields (i.e. REGON, CTYPE, AMTDU) for the cross tab as shown:
Image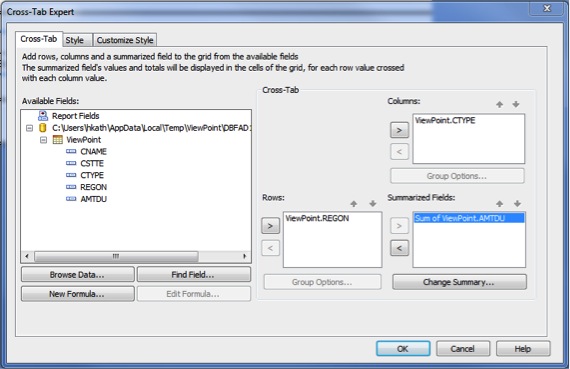 Step 5:  After inserting the fields, select the Customize Style tab to define the order of rows and columns and the background color:
Image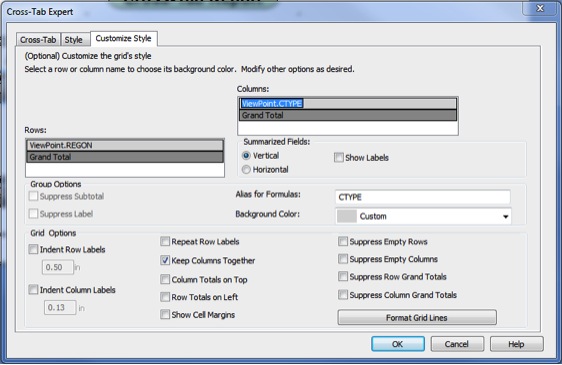 Step 6:  Within the Cross-Tab Object, right click on the field to define the font, number type, currency symbol, etc.
Image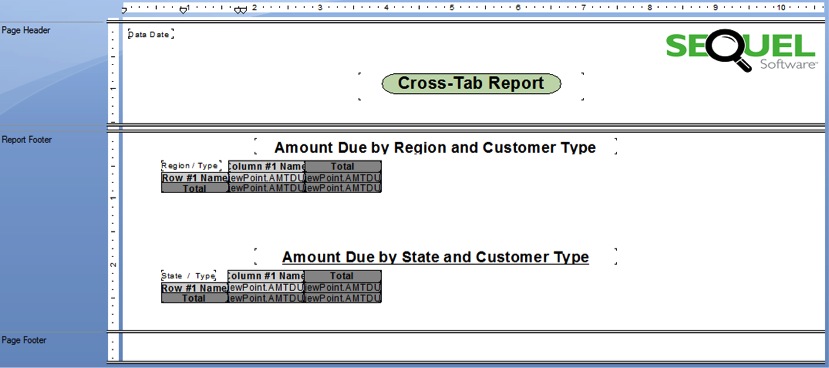 Step 8: Run the Client (Crystal Software) Report:
Image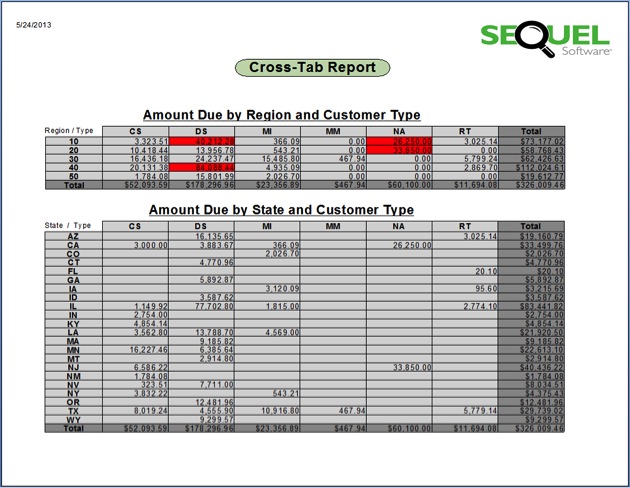 ViewPoint's Client Report Option gives you quick access to your data with the flexibility of a PC based reporting tool. Because it's based on Crystal Reports it ties into ViewPoint easily and efficiently. Contact your Regional Sales Manager to talk about adding CRO to your software.