Image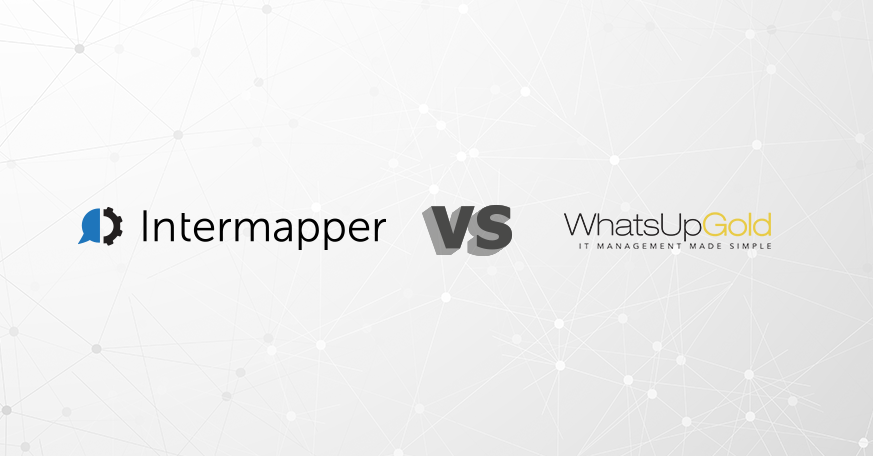 When evaluating your network monitoring options, it's important to consider the features of different solutions and identify how they will best meet the needs of you organization. WhatsUp Gold is a full featured network management solution similar to SolarWinds, that not only offers performance monitoring but also configuration and application management as well. While it can be said that WhatsUp Gold's solution has some weight, Intermapper can more than hold its own amongst the more enterprise-level solutions.
Intermapper is our comprehensive network monitoring, mapping, and alerting software that helps you proactively manage your network. It can monitor devices using SNMP, but can also monitor servers, UPS's, and security systems as well. This makes it an ideal solution for monitoring everything on your network. When comparing WhatsUp Gold and Intermapper, there are a few other key differences that make Intermapper a better choice—both for larger organizations and small to mid-sized businesses looking for a more in-depth view of their network's health. 
Related Content: Download the Ultimate Buyer's Guide: Network Monitoring Software in 2019
Comprehensive Network Mapping Tool
WhatsUp Gold's mapping capabilities are decent but not nearly as robust as Intermapper's. Intermapper auto-discovers every device in your network in a matter of minutes, eliminating the need to manually enter redundant data. You can arrange your maps in physical, logical, or geographic layouts, and customize your background image to best suit your needs. You can even integrate your maps with Google Earth for an extremely high-level view of your network activity. Intermapper also has intuitive animation that depicts real-time network traffic, providing granular detail into bandwidth utilization and traffic flow. WhatsUp Gold simply can't match the mapping features of Intermapper, nor the amount of detail every map provides.  
Painless Installation
WhatsUp Gold requires SQL server installation and configuration, which is a drawback. As your environment scales and gets bigger, this might mean you need separate instances of SQL to support your database; multiple database servers aren't ideal as they cost your company a substantial amount of money.
WhatsUp Gold also requires a separate installation for remote sites. They have a separate product called Distributed Edition; this separate tier product needs to be installed and deployed to support remote sites. Intermapper, on the other hand, doesn't require you to deploy any additional products. You can install multiple Intermapper servers at the remote sites and then have them talk to one, or you can just have one main server at your main site and query all the remote sites as long as you have a VPN connection at those sites. 
Easy Learning Curve
WhatsUp Gold uses web-based management and a dashboard console, meaning the learning curve for the less-experienced administrator might be a bit steeper. Navigating those user features might prove a little jarring for some as the user interface is quite busy. As Intermapper, however, is network mapping software that can map your network in a matter of minutes, and doesn't require training or additional resources to deploy.
With Intermapper, your team can get to work monitoring the health of your network right away. It's a cost-effective solution that's easy to use while still being powerful enough to monitor thousands of devices at a time. 
Affordable and Cost-Effective
Although at first glance WhatsUp Gold's pricing model might be on par with that of Intermapper's affordable entry cost, as your environment starts to scale, WhatsUp Gold's pricing becomes a little more aggressive than Intermapper's. For IT Managers who are tasked to "do more with less" with their budgets, this could be a difficult sell to management—especially when the feature set remains the same. The beauty of Intermapper is that whether you're monitoring 25 or 2500 devices, the software comes with a comprehensive feature set that is geared to scale up with you and your growing company.
Cross-Platform Functionality
Intermapper supports all of the major operating systems out there, embodying the ideal space of cross-platform functionality. Originally built to support the education sector, Intermapper performs strongly on both Linux and MAC OSX operating systems. Intermapper also touts very strong performance on Windows and Solaris platforms as well. WhatsUp Gold can't be considered truly cross-platform, as its strength is running the management console on Windows. It does mention Linux as an additional system that can be used to run the software, but doesn't stand firmly behind its performance on Linux.
When comparing your network monitoring options, you not only have to consider a solution's feature set, but its learning curve, cost, and difficulty of deployment. As we've seen when comparing Intermapper to other brands like SolarWinds or NetBrain, Intermapper's feature set, ease-of-use, and intuitive nature make it accessible enough for small businesses but powerful enough to monitor thousands of devices at once. If you're looking for an affordable yet comprehensive network monitoring and mapping tool, Intermapper is your best bet.