Text
Most people have a vision of a task they would love to automate. Wouldn't it be nice if you had software that could whip up your Excel report in a few seconds or watch an email inbox all day so you don't have to? Many companies get started with automation in just this way—they have a single problem to solve, and they find a solution that can do it.
To get the best automation ROI, though, you need to look beyond that first step. Automate Plus is a solution that fits perfectly to your current needs and also scales to meet your future goals. Whether you are looking for your first business process automation solution, already using Automate for a single instance of automation, or wondering how to take your automation strategy to the next level, Automate Plus is the software that can get you there.
Islands of Automation
Automation solutions typically fall into one of a few categories. The first category is software that makes individuals and teams more productive by automating routine, rules-based tasks. This is often the first step to automating a business and can save a department hours every day.
A second category of automation involves your existing applications. You undoubtedly have a wide array of business software already in place across your organization, some of which has built-in automation features. But without a centralized automation solution to connect your application workflows and add features like audit logs and automatic notifications, you aren't maximizing the ROI of your business applications.
The third automation category is systems and infrastructure, including solutions for monitoring your systems, automating DevOps, meeting virtualization challenges, and more. The Automate platform is unique because it reaches all three areas, allowing you to meet any combination of automation requirements without cobbling together disparate solutions.
Image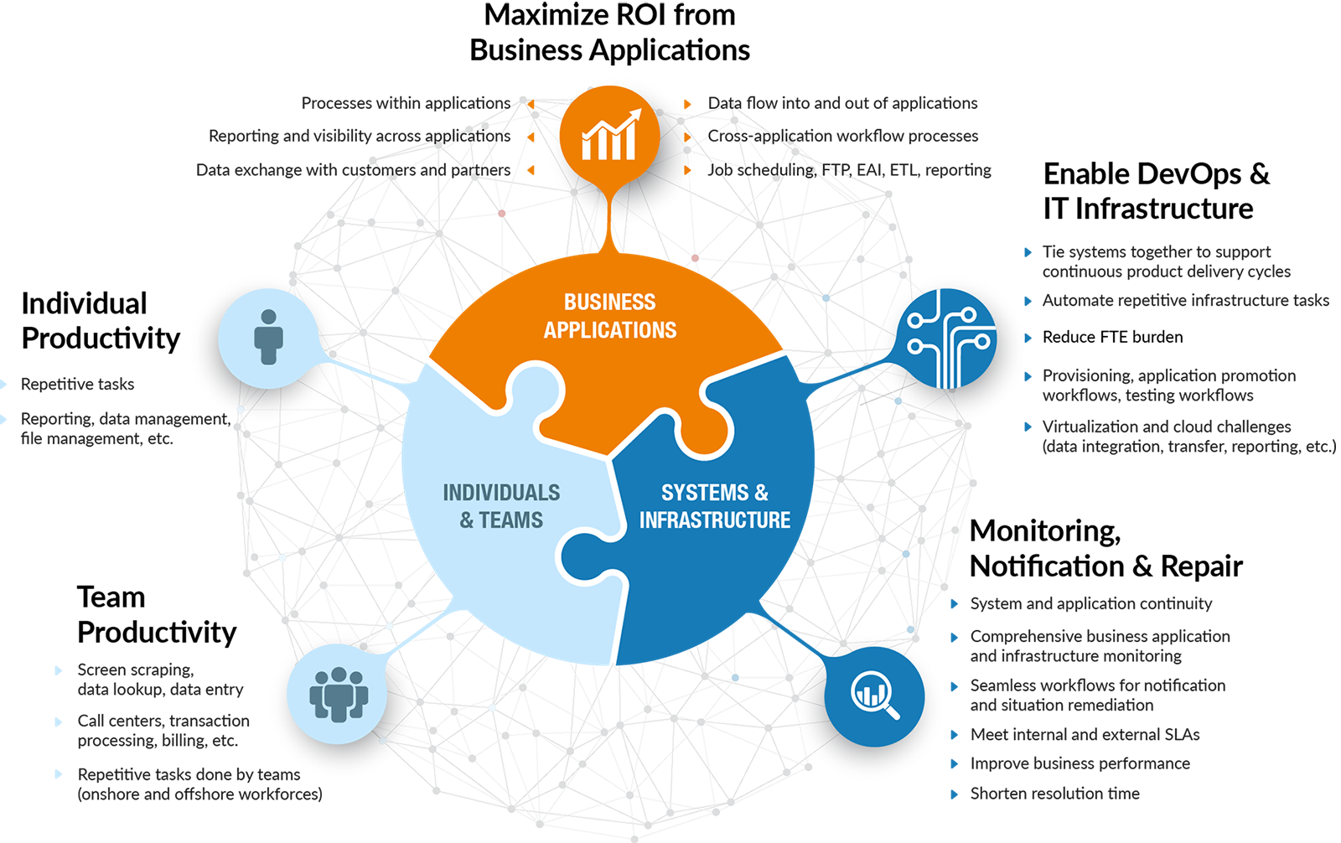 What is Automate Plus?
For those of you who were already familiar with the Automate product line, you may remember the products by different names. Automate Professional and Automate Premium are now simply Automate, Automate BPA Server and BPA Server Enterprise are now Automate Plus, and Skybot is now known as Automate Schedule.
In addition to simplifying the list of product names, this change comes with additional flexibility and customizability. You can purchase some of Automate Plus' enterprise-class features as individual add-ons, or all together in the Plus Package. This means you get exactly the solution you need, with the ability to add more features later. Add-on modules include the functionality to add more than ten agents with the Extended Agent Server, detailed analytics with the Automate Plus Ops Console, or an expansion of Automate's security features with the Enhanced Security and Audit Platform.
Read more about what's new in the latest version of Automate, or check out video demonstrations of the extended features:
Building Your Center of Automation Excellence
You have your automation solution, you've automated or made plans to automate your first process, and you're ready to take your automation to the next level. So what does that look like?
The end goal is to build what we like to call an automation center of excellence. When you're planning your center of excellence, there are two main areas to focus on: systems and people. At the systems level, start by making sure you have the solutions and infrastructure to support your automation, including adequate capacity, high availability or disaster recovery configurations, and robust security and auditing processes. Next, work on developing automation best practices and reusable automation templates for use across the enterprise. You'll also need to have strong training procedures in place for anyone who will be using the automation solution.
Image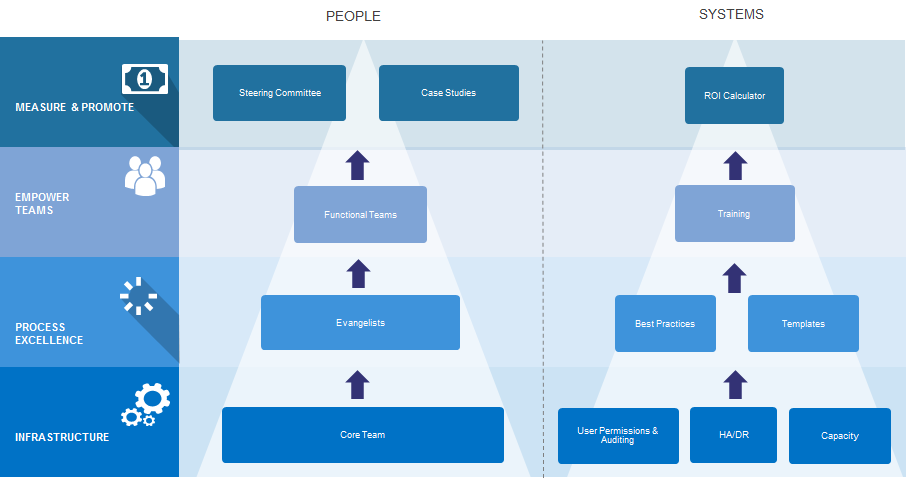 The other area of focus is people. When you first implement automation, you are likely to have one person or a small team of people who understand the software and are using it to solve your initial problem. As you implement your first automation instance, these people and others involved with the project will become evangelists, spreading automation across the enterprise. In order to keep this process strategic and establish priorities, you should create an automation steering committee. It's also helpful to develop case studies internally to show the value of your automation solution. The more people in your organization who can envision what automation can do, the more your automation will scale to reach every corner of the business.
Who Creates and Uses Automation?
Automation has traditionally been located in the IT department, and automated job scheduling, file transfers, DevOps, and other IT processes are still an important part of any automation strategy. Automate Plus often enters the organization through the IT department.
However, it also often lands in a business department and expands from there. Automate's drag-and-drop interface is as intuitive for accounting or HR managers as it is for programmers or operators. Regardless of who in your organization is the first to automate a process with Automate Plus, there are sure to be other departments with problems just waiting to be solved through comprehensive enterprise automation.
Further Reading
Looking for some inspiration on where to take automation in your organization? Here are some common processes that Automate Plus can help you streamline:
Ready to get started with Automate Plus? Schedule a personalized demonstration with our software experts.
REQUEST A DEMO