Image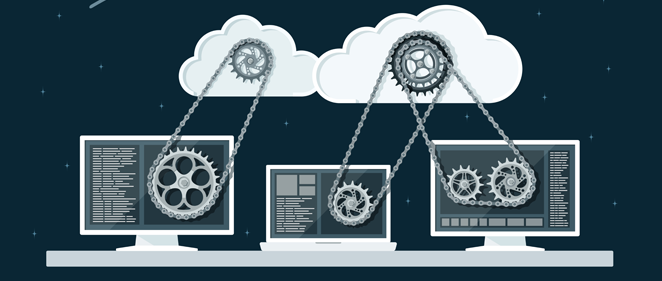 By now, you've heard all about the importance of cloud computing. Over the past decade "the cloud" has gone from a trendy buzzword to a widespread technology that is transforming IT environments. A 2014 report by the Economist Intelligence Unit (EIU) suggested that cloud is becoming the dominant model of IT service delivery. One third of organizations in the EIU study said that 60 percent or more of their technology was delivered via the cloud. Nearly twice as many believed that this would be the case for their businesses in two years' time.
In their 2012 Radar Report for Workload Automation, the analysts at Enterprise Management Associates (EMA) stated that the term "cloud" could be described as a new IT paradigm. According to EMA, the cloud allows enterprises to quickly implement strategic business solutions. They saw this as a major catalyst for the progress in workload automation software between 2010 and 2012.
What good is cloud technology if your cloud-based applications aren't fully integrated with the rest of your enterprise? A comprehensive enterprise automation tool can harness the power of the cloud by managing cloud-based and on-premises applications from a unified enterprise job scheduler.
The Cloud and Big Data
Earlier this year HelpSystems conducted a survey of over 500 professionals at organizations of all sizes to learn about how they manage their data. One key area of interest for us was how well respondents had integrated data stored in the cloud with their other systems and applications. While enterprises everywhere are eager to adopt data-driven strategies, effectively using data requires the company to be able to easily transfer the data between applications, and to automate data processes regardless of where the data is located.
We found that almost a third of organizations surveyed were storing data both in the cloud and on-premises, necessitating robust application integration. Yet only about a third of those respondents claimed that their data sources were fully integrated with their systems and applications. As new technologies like the cloud and mobile applications are adopted, it becomes increasingly essential to have a central tool that can oversee even the most complex IT environments.
The Importance of Automating the Cloud
Four years after the 2012 Radar Report lauded cloud as the new IT paradigm, the 2016 Report sees cloud as more of a mature technology rather than something radical and new. However, cloud adoption is not anywhere near 100%, and its growth is still a trend that is impacting workload automation.
Integration with the cloud is a factor that EMA takes into consideration when evaluating workload automation solutions. We're proud to say that cloud integration was listed as a strength of HelpSystems in the Radar Report. According to EMA, "The integration between Automate and Automate Schedule provides total end-to-end automation from automating a workflow at the desktop, to complex event-driven automation in the datacenter, to cloud automation, and back to the desk."
Facilitating Changing IT Environments
IT departments are under a lot of pressure these days. Business leaders look to IT not just to keep the lights on, but to work with teams across the enterprise to help meet business objectives. The IT department has to accomplish these goals while operating in an increasingly complex environment, and they have to do it within a tight budget.
In order to meet these requirements, IT needs to be able to be able to move quickly and make innovative decisions while maintaining existing infrastructure and ensuring stability. In some cases, departments are actually dividing into two separate tracks—one experimental and fast-paced, the other conservative and traditional. In other organizations, the same employees have to manage both types of work. Either way, it's critical that the company isn't spending too much time or too many resources on traditional tasks. One reliable way to take many of the more mundane IT processes off of your hands is to automate them with an advanced enterprise job scheduling solution.
Workload automation can take over some extremely time-consuming repeatable tasks, like:
This frees up time to implement new technologies and do the experimental, innovative work that is required of modern IT.
The 2016 Radar Report points out that "workload automation may have its roots in scheduling batch jobs on mainframes, but in its modern and still-evolving form, it is a foundation of successful hybrid cloud computing and is key to integrating new technologies and processes in a rapid-fire IT world."
In this new era of IT, workload automation allows you to maximize your potential in the cloud. An enterprise job scheduler not only automates the technologies—on-premises and in the cloud—that run your business today, it also sets you up to easily manage the technology you'll need tomorrow.