Image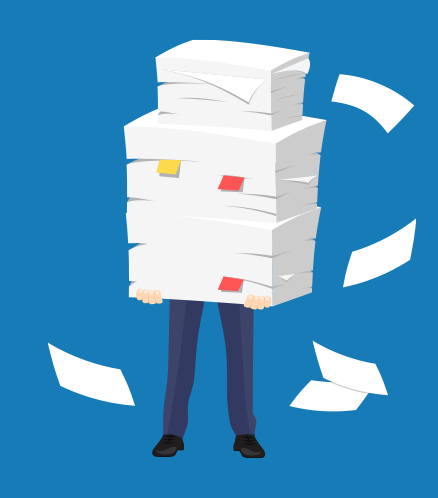 The dream of taking your company into a completely paperless world may feel daunting. But there are little things that can assist you in taking that big step toward your paperless goals, all while saving your business money and helping the environment. So where do you start?
Watch this video to get your tips, or scroll past to read them.
Sell the program to your employees
Not everyone is going to like the transition into the electronic world, but it's important they all chip in. Show your employees the cost savings as well as how their day-to-day operations will be more efficient. They'll love that going paperless will free them from a lot of the manual, redundant and inefficient tasks. You can also tout the environmental benefits of going paperless. A recent study at Aquinas College in Grand Rapids, Michigan, shows that one fourth of the waste in our landfills is paper. For example, if U.S employees cut their paper use by just 10%, that would prevent the emission of 1.6 million tons of greenhouse gases. 
Set up a "Green Team"
To help your employees get on board, you might want to consider appointing a Green Team: a group of managers and employees committed to leading the charge on your company's paper-free launch. In this way, a handful of employees can take responsibility for research, finding the most efficient and cost-effective ways to transfer your company's paper documents to digital files, and automate formerly manual, paper-based business processes. They can also act as liaisons, speaking with employees and department leadership in order to assess how documents are used and accessed, as well as win support for your new company-wide paperless program.
Desktop Scanning: Beginning the transition from paper to digital
Going paperless won't happen overnight. You need to decide how far you need to take it and how quickly. This depends on your reason for going paperless. If your biggest concern is to immediately free up space, you may want to hire an outside firm to speed up the transfer of your archived files to digital ones. You can also set time constraints, like digitizing the previous 6 months of documents before you implement your electronic document management system and setting up a plan for how the rest of your records will be added to the digital repository over time. 
Digitizing documents is the way to begin the transition with new and active files, and desktop scanners are an effective way to do that. Scanning documents makes the information immediately available to your employees, as well as customers and clients outside your office.
Storing your digital files
There are a few different ways you can store files. The least secure but cheapest way would be to store digitized documents on shared network drives, but doing so generates security risks and makes searching for documents really challenging. A preferred option would be to store documents in an electronic document management system (EDMS) like Webdocs.
Document management systems come in all forms and shapes, and are usually now available in cloud- or on-premises-based versions. Which you choose depends on your needs. Cloud-based solutions provide instant ROI, fewer start-up costs and no IT maintenance. However, they do sacrifice some control and the more robust functionality of a server-based, on-premises solution.
Both should allow you to scan, store and retrieve the electronic images of your files. Both also provide search functionality and levels of security and version control that are critical to keeping documents safe and accessible to those who really need them.
Back it up: Protecting your data
Digital files are easy to access but they're also vulnerable for a computer system crash. What would happen if a company suddenly lost access to their files? It's important that you discuss the options for backing up and protecting your data, either with your cloud service provider or internal IT staff.
While converting your office from paper to digital is no easy task, as you can see, the technology and security available today give you the ability to customize the transition to a paperless office to your needs, priorities, budget and timeline, making going electronic easier than ever before.
Get ready, get set, go paperless!
Our guide to going paperless has everything you need to get started going paperless in the office.
GET THE GUIDE