Media
Image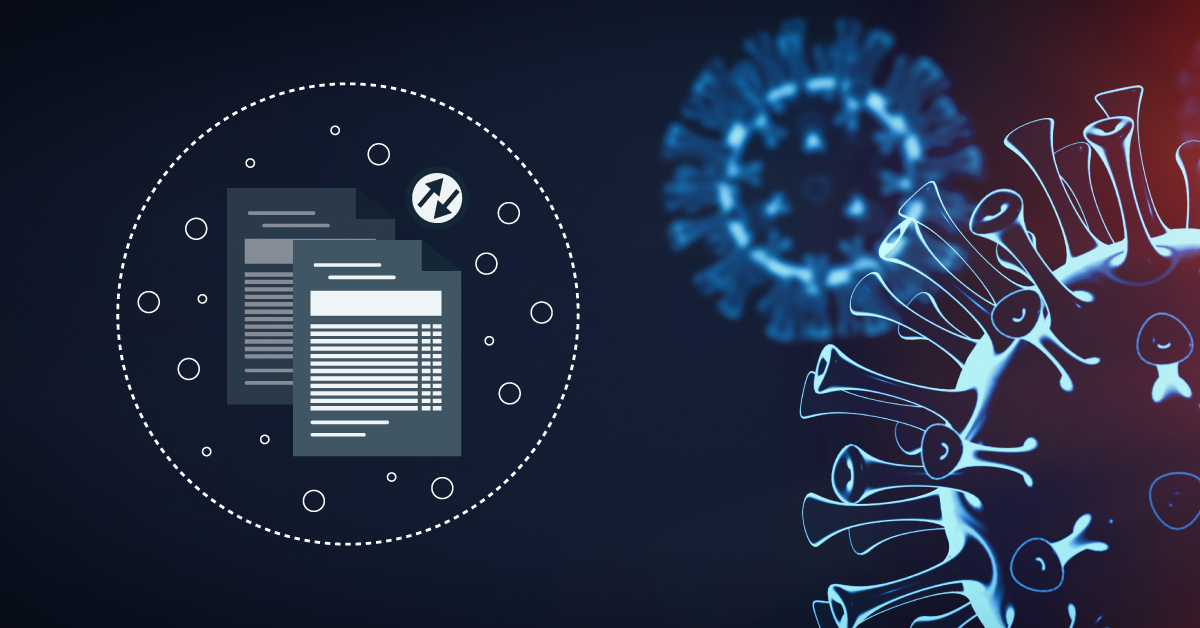 Text
Virtual Hug Coming Your Way
As workforces are now more remote than ever due to COVID-19, it's not just lagging Wi-Fi you need to keep an eye on. Files containing your organization's most sensitive data are being put to the test, most likely no longer within the safety of your company's firewall and not secure enough to transfer without a second thought. Secure managed file transfer (MFT) is a proactive practice to put into place.
There's no need to spend unnecessary time worrying about your file transfers and wondering if they're going to remain secure and efficient throughout COVID-19. Rather, ensure the information you need to stay secure remains that way, no matter where your staff is working from. Thanks to our remote monitoring, syncing, and file transfer capabilities; web-based interface; and our mobile app for secure file transfer management, GoAnywhere MFT is an excellent virtual support system ready to help you weather the storm.
How GoAnywhere Can Help
GoAnywhere MFT can be helpful and support your organization in a number of ways, including the following:
1. Remote Automation
MFT agents allows administrators to control automated file transfers and file processing remotely from a central GoAnywhere server. The agents provide remote file transfer capabilities in real-time and can be installed virtually anywhere. Desktops and servers located on-premises, external systems such as retail or trading partners, and even the cloud are all viable options.
With MFT agents you can effectively and efficiently take advantage of remote monitoring, syncing directories, and more. Individuals can utilize projects on the agent host to collect remote log files and send them back to the MFT server or different syslog servers in order to have them centralized into a single location. With the logic you can put into projects, along with file transfer capabilities, you can also keep directories in sync with one another with the option to add or remove files on an as needed basis.
Agents additionally have the capability to run native commands ad hoc or based upon schedules or conditions. Coupled with the ability to transfer files to/from the remote agents' servers, a great mechanism for easy mass deployment exists.
Watch the Webinar: 10 Practical IBM i Security Tips for Surviving COVID-19 and Working from Home
2. Web-Based Interface
GoAnywhere MFT as a Service, or MFTaaS, is a secure cloud/SaaS managed file transfer solution that streamlines the exchange of data between systems, employees, customers, and trading partners – just like GoAnywhere MFT.
With MFTaaS there's no need to manage a cloud infrastructure or install software on-premises. GoAnywhere MFTaaS takes care of it all – the setup, hosting, and management. It provides organizations an intuitive interface with centralized controls and management, ideal for remote work and situations like COVID-19.
Enhance file security, automate, audit, comply with requirements, and translate as needed. This one multi-purpose tool is a great virtual support solution for these complicated times.
3. Mobile App for Secure File Transfer
For further support, GoAnywhere MFT offers mobile support for secure file transfer and management with the GoAnywhere File Transfer Mobile App. This app permits users of Apple and Android devices to securely send ad hoc file transfers with GoAnywhere.
Related Reading: How the Coronavirus is Impacting Your Data Security
How GoAnywhere Has Already Helped
GoAnywhere MFT is working hard behind the scenes to help as many people as possible. From assisting with fulfilling urgent requirements created by COVID-19 to streamline and secure file transfer processes in the public sector, to the potential to support absentee voting in elections with the Secure Forms module, our customers are relying on GoAnywhere to solve an array of critical and urgent needs.
Some real-life examples include:
A real-life example from a large player in the medical testing field: GoAnywhere has helped this organization handle the critical and dramatic medical increase in medical testing from hundreds of thousands of trading partners, including medical institutions and doctors. By actively engaging and helping them turn their entire focus in the direction of COVID-19, GoAnywhere has helped get testing where it's most needed.
A real-life example from a regional medical center: GoAnywhere has helped this organization transfer hourly reports to a location for display on the organization's COVID-19 Status Dashboard.
A real-life example from an international city employee: GoAnywhere has helped this staff continue to send and retrieve files at home if they need to print or scan something, safely and securely.
A real-life example from a U.S. state employee: GoAnywhere has helped this staff member avoid the need to access a desktop through the web-based interface and remain productive.
A real-life example from a data and analytics health service: GoAnywhere has helped this staff member create additional workflows to handle the increases in file transfer volume due to COVID-19.
A real-life example from a large not-for-profit senior service agency: GoAnywhere has helped this organization send secure communications and access digital cabinets at home without having to connect to a VPN or remote desktop, without having to worry about internal files being in the cloud.
A real-life example from an insurance agency: GoAnywhere has helped this organization's employees work remotely by creating many additional FTP user accounts. It has also allowed for the sales team to access files quickly when not on a VPN.
Related Reading: IT & COVID-19: The 3 Phases of Supporting a Remote Workforce
Get the Support You Need with GoAnywhere MFT
Ensure the information you need to stay secure remains that way, no matter where your staff is working from.