Media
Image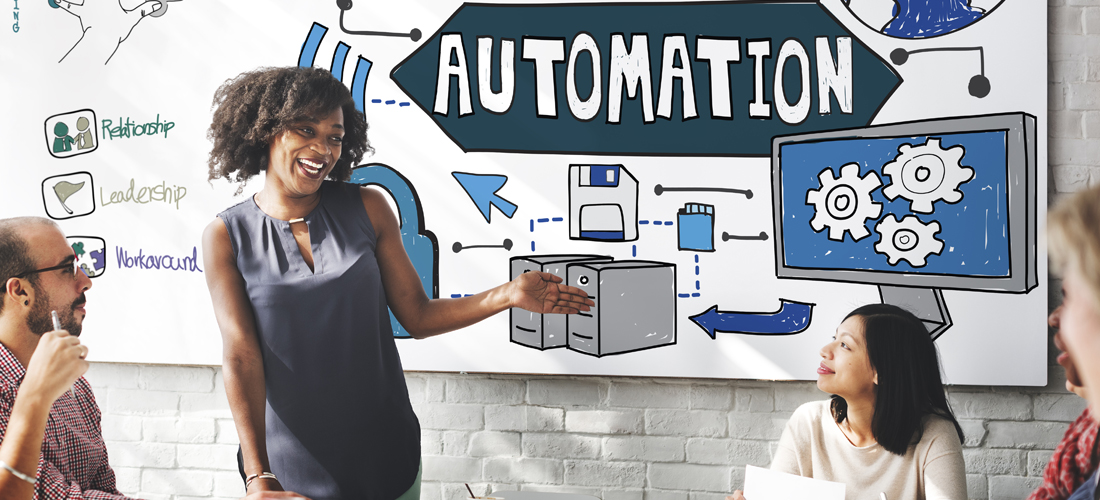 Text
At HelpSystems, we have over three decades of experience with automation software, and we're always excited to share our knowledge with you. That's why we've created this video series, "No-Stress Automation," in which our experts give you simple overviews of important job scheduling and process automation topics. So far we've made 17 videos on the topic of enterprise-class job schedulers. If you are trying to choose a job scheduling tool, hoping to get the most out of the workload scheduling software you have, or just wondering what a job scheduler can do for you, these videos will walk you through everything you need to know.
If you are looking to learn about the who, what, when, where, and why of automation, check out the basics in Section 1. For more information on what features your new enterprise scheduler ought to have to give you the best ROI, go to Section 2. Section 3 is a more in-depth look at the capabilities a good workload scheduling tool has, and Section 4 will help you look at your enterprise and find the places where an enterprise job scheduler could save you time and money.
Section 1: Job Scheduling Basics
Start with this video if you have no idea what enterprise-class job scheduling really means. How is an enterprise job scheduler different than your current automation tool? How will it help your business?
Next, make sure you don't have any misconceptions about workload automation. There are a lot of rumors out there, but thanks to 30+ years of job scheduling experience at HelpSystems, we can help you separate fact from fiction in the next video.
We'll also teach you about some different types of solutions. Some job schedulers are too big and bloated to provide a good ROI, while others are too light to give you the features you need. Learn how to find one that is just the right size. 
 
If you have UNIX machines, the chances are you know all about cron. Cron is a reliable tool for simple tasks, but it just doesn't cut it in a complex IT environment. Here's why.
Still not convinced that an enterprise job scheduler will benefit your organization? The final video in this section summarizes key advantages of enterprise automation.
Section 2: Features of a Job Scheduler
So you've decided to implement an enterprise job scheduler. But how do you choose the best software for your business? The next several videos walk you through the important features of a job scheduler and why you need them, starting with job history.
The second feature you'll want to look for is job monitors. Job monitors watch your critical jobs so you don't have to. Make sure your scheduler has monitoring and notification features to protect your business against job failures.
What's so great about automation software with a web browser user interface? A member of the Automate Schedule development team has the answer in our next video.
 
Finally, make sure your job scheduler has its priorities straight. Job queues are where jobs go while they wait to be executed. Find out what job queue features your enterprise job scheduler needs to intelligently decide which job to run when.
Section 3: Setting Up Your Schedule
Now that you know all about the importance of job monitoring, job queues, and job history, what about the actual job schedule? Make sure your new tool has the sophisticated scheduling options you need. This video teaches you about the differences between basic, moderate, and advanced job scheduling features.
Basic job schedulers are time-based—that is, your jobs are scheduled for a certain time on a certain day. Did you know that advanced automation platforms allow for jobs to be triggered by an event like a file arrival? That's what we call event-driven job scheduling.
Your company probably relies on big software like CRM, ERP, and ETL. Don't create islands of automation—integrate these platforms with your enterprise job schedule. 
Taking a service-oriented approach to batch processing allows you to better leverage all your existing software, whether it's homegrown or purchased. Learn more.
Section 4: Making Your Job Scheduler Work for You
OK, you get it, enterprise job schedulers are full of great features to save you time and eliminate errors. But would a job scheduling solution really be worth the investment?
Well, that depends on whether you want to prevent server outages.
Or easily diagnose and handle errors in the workflow.
Or transfer files securely and reliably.
Or customize when and how you access, retain, and purge your data.
 
And More!
These videos are just the beginning. Stay tuned for more expert explanations on important automation topics. Meanwhile, if you're ready to implement workload automation in your organization, watch this recorded webinar on getting internal approval for an enterprise job scheduler.