Why Use Skybot Job Scheduling Software?
Do your IT processes run across multiple systems and applications, requiring complex dependencies? Do you lose sleep worrying about missed SLAs? Do you wish you had central control of processes throughout your entire enterprise?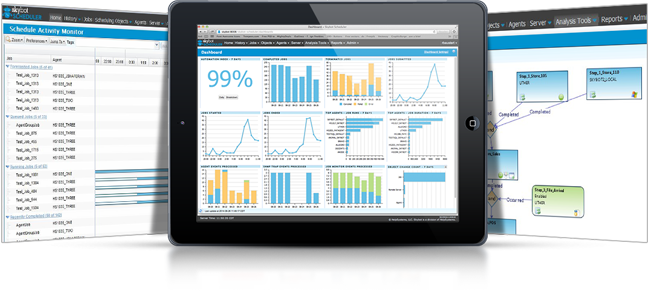 Enterprise job scheduling software might be the automation solution you've been looking for. The right job scheduler should do more than just schedule a job to run at a specific time on a specific day. Your job scheduling software should be working to reduce business risk by doing what your team is doing now—monitoring processes company-wide, making sure everything runs in the right order, notifying stakeholders of errors, compiling reports—so that you can focus on more strategic initiatives for your business.
Skybot Scheduler is a complete enterprise scheduler that automates your workflows across Windows, UNIX, Linux, and IBM i systems—from a central console. With the ability to schedule and monitor event-driven job streams across every platform in your data center, you can streamline operations and save time without having to manually monitor different job schedules.
So if you've been relying on cron or Windows Task Scheduler—native job schedulers to these servers—you can bring these isolated job schedules enterprise-wide with Skybot, helping you make the most of your existing resources. With Skybot, you can import your existing crontab schedules and even continue scheduling with the familiar cron syntax. It's never been easier to unite your disparate job schedules than it is to manage them from Skybot's centralized web-based user interface for job scheduling.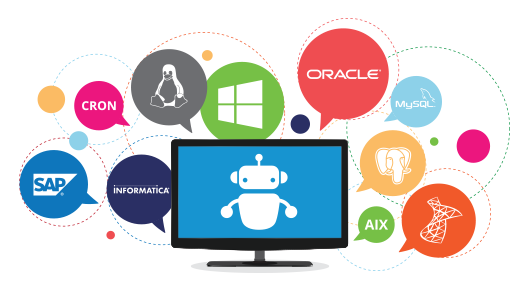 You probably also rely on other software applications that are critical to your business's success: SAP, Oracle E-Business Suite, Informatica, and more. Skybot Scheduler integrates your business-critical applications, which means that your important data and other deliverables can be utilized in the job schedule, incorporated with other applications, and leveraged across the organization. Skybot's interfaces to your primary applications means that you can simplify the management of your resources by seeing your enterprise through a single pane of glass. This gives you a complete approach to workload automation, which means that your team can focus on strategies that will both keep your company relevant and move you forward.
As you can see, Skybot Scheduler packs a punch to help you meet your workload automation
goals and increase efficiency in implementing your back-end processes. Using Skybot, you can schedule enterprise jobs across the servers and applications that make your data center unique—at an affordable price. Moreover, there's no need for a drawn out, expensive implementation period that requires having a consultant on-site. You can install Skybot Scheduler by yourself in just minutes and begin setting up your job schedule easily. A job scheduler is there to make your life easier, not more complex. Let Skybot Scheduler transform the way you do business.