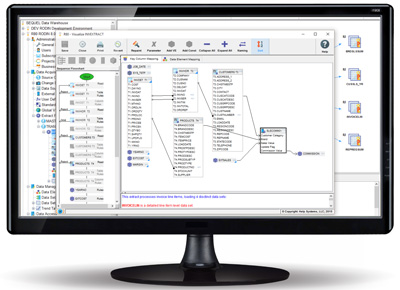 SEQUEL Data Warehouse (powered by RODIN) is the industry-leading tool for building and managing Data Warehouses and Data Marts on the IBM i platform.
In fact, it is the only full-function native solution available for the platform. SEQUEL Data Warehouse makes it easy to deploy and manage a data warehouse environment, providing all the tools you need to develop sophisticated ETL and change data capture, with complex business rules, data quality management, event notifications and error monitoring, metadata, and more. It provides everything you need for successful data warehousing and business intelligence.
SEQUEL Data Warehouse enhances and extends numerous front-end data access tools with a well-designed, fully-integrated data warehouse. Including an extensive management layer that monitors and controls the development and execution of ETL processes, SEQUEL Data Warehouse ensures a very high degree of data integrity in a rapid development environment.