The PowerTech™ Security Scan is the place to start when you want to secure your IBM i (System i®, iSeries®, AS/400®). The free Scan provides a snapshot of your current system security in just 10 minutes. It runs directly from a network-attached PC, without modifying any system settings. The Security Scan audits common security metrics and displays the results in an easy-to-read, browser-based application. A PowerTech Security Advisor helps you interpret the results, and you can print the findings for your records.
 
---

Why Should I Run a Security Scan?
The Security Scan examines your system's vulnerabilities, and suggests steps you can take to protect your critical data. A Security Scan is:
Quick—The Scan runs in just 10 minutes
Confidential—Only you see the results
Thorough—A Security Advisor helps you understand the current state of your IBM i security
Clear—You'll understand where your system is secure and the areas that need work
The Scan reviews critical areas of IBM i security: user access, public authority, user security, system security, system auditing, administrative rights, and virus scanning. You'll find out where your IBM i security currently stands, whether your system is at risk, and how to improve data protection.
---
What Do I Get after Running a Security Scan?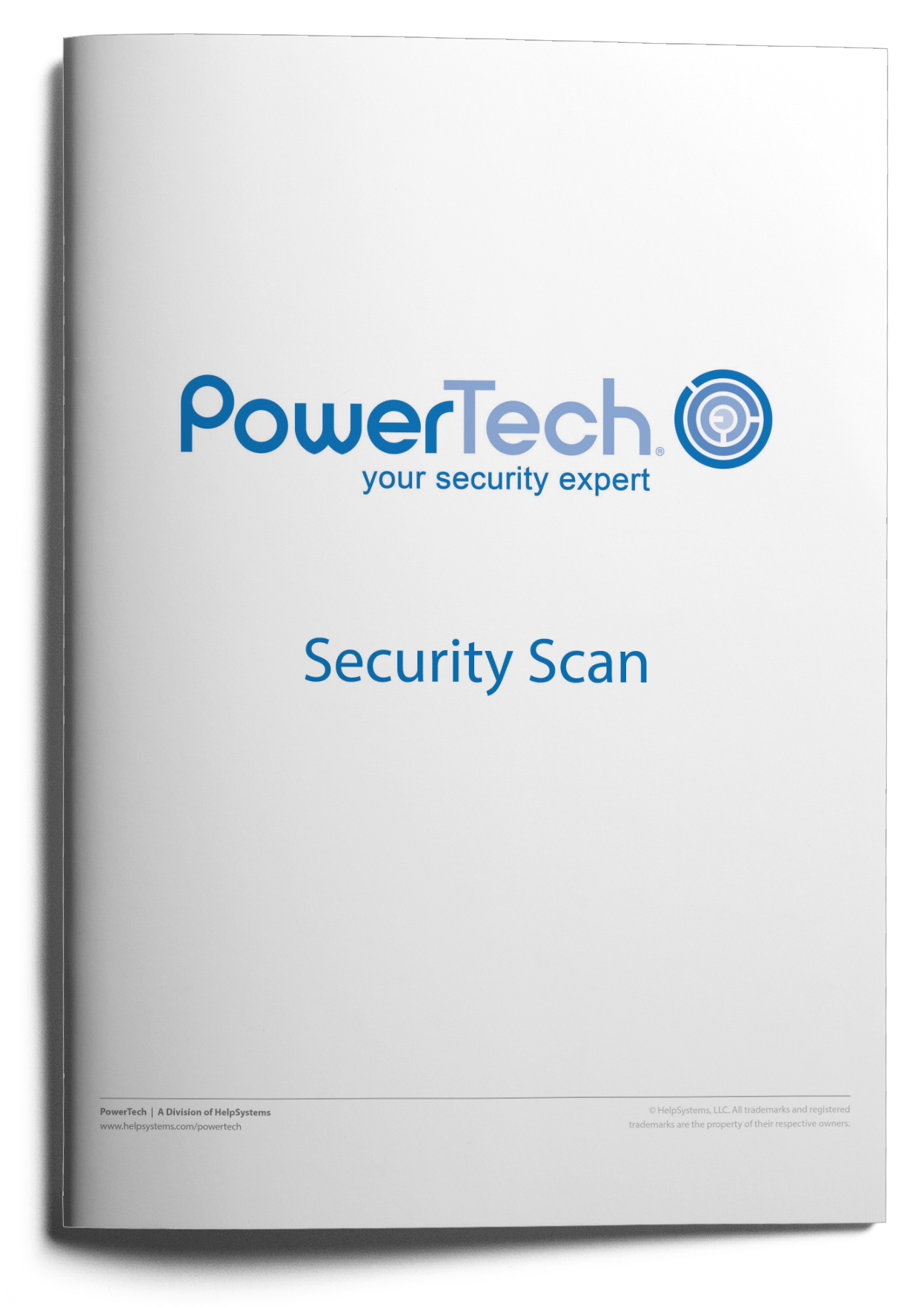 Results of your Scan are compiled immediately and presented for review in an easy-to-understand, browser-based, interactive reporting application. A PowerTech Security Adviser can help you interpret the results, and you can save or print the findings for your records.
Security Scan does not leave files on your IBM i. The Security Scan application installs a licensed program to collect security data, but the files are removed upon completion of the analysis or you can remove the program manually using the DLTLICPGM command. You also have seven days after your Security Scan to make configuration changes and rerun the Scan to test your changes.

 
Executive Summary
The Executive Summary ranks the overall condition of your system. Red, yellow, and green indicators compare your system against best practices, along with references to the COBIT framework to which they apply.
User Access to Data
The User Access section reviews user access to system data through common network access services, such as FTP, ODBC, and Remote Command.
Public Authority
The public is any user with a profile and password, so this section indicates how accessible the system is to the average end user.
User Security
The User Security section reviews how many user profiles haven't been used for at least 30 days and how many have default passwords, as well as reviewing basic password settings.
System Security
The System Security section examines key system values that control security settings on your system.
System Auditing
The System Auditing section checks if you are using the IBM i event auditing capabilities and the types of events being audited.
Administrative Rights
The Administrative Rights section reviews eight special authorities and the vulnerabilities of each.
Recommendations
The Recommendations section provides suggestions for remediation based on the security checks performed on your system.
Learn More


Read this Resource
Get an overview of auditing IBM i with Security Scan.
Don't Miss…
Uncover the most common IBM i
security risks.
Watch and Learn
Get an auditor's view of security vulnerabilities.