Why Monitoring Software?
Proactively monitoring your computer systems is so easy to do, yet so often monitoring software is implemented only after a major breakdown or crisis has already occurred.
Astute IT directors are using automated monitoring solutions as part of their everyday process, establishing a management by exception environment by introducing smart monitoring solutions that provide an early warning to system administrators if status changes or conditions appear to be outside the norm.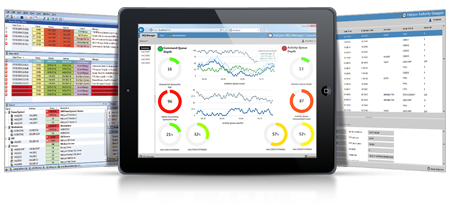 Many managed service companies or IT outsourcing organizations are successfully using smart monitoring to take on more business without expanding their headcount and, in addition, are reducing the overall cost of managing their systems.
In today's pressurized and competitive environment, automated monitoring is no longer a luxury—it's a necessity for minimizing risk and ensuring the continuing viability of your business.
Why Halcyon?
Halcyon provides multi-platform systems management solutions that reduce the complexity and cost of monitoring critical business systems, core applications, and processes. Halcyon solutions help companies prevent business disruption and can increase the efficiency of IT services, delivering significant savings and a rapid return on investment.
By developing native solutions for IBM i, AIX, Linux, and Windows, we can monitor and manage the many different types of computer architecture that are widely used in modern organizations. We know that native solutions (those which are not agent-based) enable IT teams to drill down in order to fully understand why a particular process or event has failed and rapidly respond to any situation.
In today's fast-paced business world, monitoring with Halcyon makes a world of difference.

From our customers...
 
 

"Halcyon's technology is great. We no longer worry about catastrophic problems. The Halcyon system addresses issues that might have gone unforeseen. Additionally, the system catches much more than a technician would."

 
 
 

"We now have high levels of confidence that our whole infrastructure is being monitored efficiently and that critical alerts will be received without delay so appropriate actions can be taken to minimize business disruption."

 
 
 

"The IBM i and Infor M3 system is one of our most critical, which is precisely why, when it came to selecting a systems monitoring solution, Halcyon was the logical choice."

 

Check out these monitoring resources...